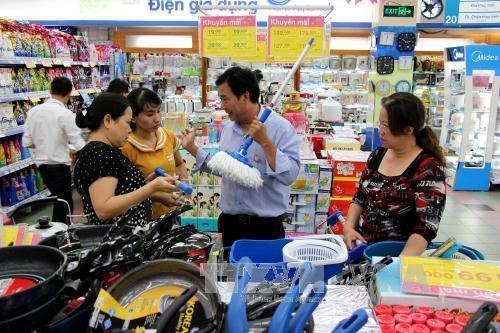 Hà Nội ensures a stable supply of goods for the Tết festival in 2018. — VNA/VNS Photo Thanh Vũ
Viet Nam News
HÀ NỘI — Hà Nội should cooperate with neighbouring provinces to meet the demand for goods on the occasion of Tết (Lunar New Year) in 2018.
Deputy minister of industry and trade Đỗ Thắng Hải said this at a conference held in Hà Nội this week, to ensure a stable supply of goods for the Tết festival.
The cooperation will bring enough qualified goods and diversified goods for people, and avoid a situation of shortage of goods in some places or an increase in prices of goods, Hải said.
At the same time, he said Hà Nội should strengthen the inspection of origin, monitor goods supply, and gradually develop cooperation among enterprises to trace the origin and quality of goods.
According to the Hà Nội Department of Industry and Trade, goods in demand during the Lunar New Year 2018 include 193,600 tonnes of rice, 50,000 tonnes of pork, 14,000 tonnes of chicken, 13,800 tonnes of beef and 200 million units of poultry eggs.
The total value of goods for the Lunar New Year in the city this year is estimated to reach some VNĐ26 trillion, a year-on-year increase of 10 per cent, including VNĐ10 trillion of confectionery and beer products supplied by enterprises. Meanwhile, households and groups producing goods for Tết such as confectionery, sausages, vermicelli and processed agricultural products will provide a total value of VNĐ2.2 trillion of goods.
Commercial firms are expected to market goods worth VNĐ12.83 trillion for the Tết festival this year, while traditional markets will provide goods worth VNĐ1 trillion.
Trần Thị Phương Lan, deputy director of the Hà Nội Department of Industry and Trade, said that until the Lunar New Year, the department will create favourable conditions for enterprises selling goods at fairs and trade promotion programmes.
The department will cooperate with the Department of Agriculture and Rural Development and relevant offices to inspect food hygiene and safety of food producers and processors.
It will also ask enterprises to stabilise the price of goods for the people before, during and after the Tết festival. — VNS