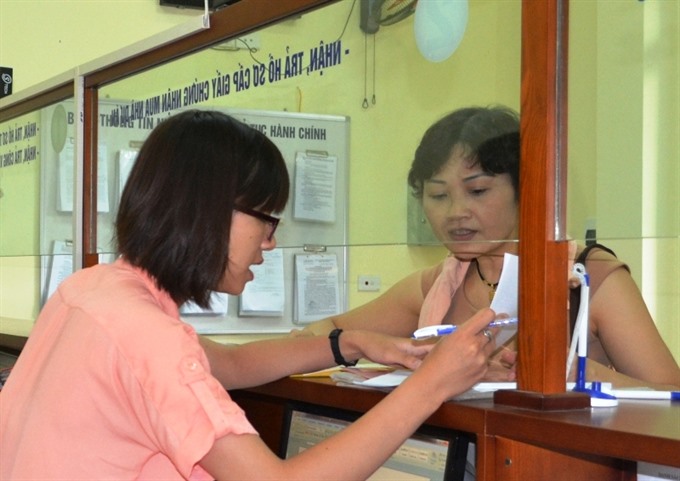 Staff at the Provincial Office instructs a woman during land-related registration procedure in Thanh Xuân District, Hà Nội. — VNA/VNS Photo Minh Nghĩa
Viet Nam News
HÀ NỘI – The Ministry of Resources and Environment early this week issued a circular suspending a regulation that required each family to include information about every member in their certificate of land use rights, or red book, instead of only the head of household. The Ministry made the suspension in response to public input, according to a press release.
The now-suspended regulation states that the certificate of land use right issued to a household shall contain the full name, date of birth, identity card number and permanent home address of the head of household and other family members in the house. That regulation was issued on September 29 as an amendment to the Land Law and took effect on December 5.
After the circular was issued, people complained that the change increased inconvenient administrative procedures. Therefore, the Ministry decided to delay the implementation.
Previously, the Land Law stated that the certificate of land use right need only contain information about one representative of the household. This created difficulties during property transactions. It was difficult for the State to protect the lawful land use rights of family members who were not listed in the red book.
Even as it suspended the regulation, the Ministry said that proper implementation would not increase administrative burdens for citizens or local governments. Certificates on land use rights issued before the regulation are still valid and do not need to be changed.
But the public confusion nevertheless spurred the Ministry to delay implementation, the press release said. The Ministry aims to create a societal consensus around the change and to ensure everyone is aware of the rights and interests of all household members named in the certificate. At the same time, the local authorities need more time to prepare to effectively implement the change.
Therefore, the Prime Minister approved the ministry's proposal to delay implementation.
The General Department of Land Management under the Ministry of Resources and Environment is responsible for guiding the implementation of the new red book rules. The local people's committees and departments of resources and environment in provinces and cities will be responsible for on-the-ground implementation. They must report implementation difficulties to the ministry in order to find solutions. – VNS