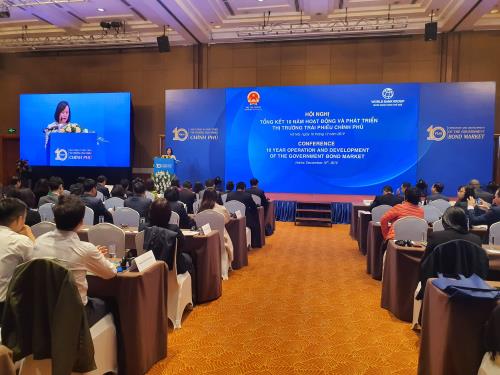 HÀ NỘI — Việt Nam's Government bond (G-bond) market would become a safe, effective and highly lucrative investment mechanism for commercial banks, insurance networks, investment funds and foreign investors.
The statement was made by Phan Thị Thu Hiền, director of the Department of Banking and Financial Institutions under the Ministry of Finance, during a conference to review the ten-year operation and development of the G-bond market in Hà Nội on Tuesday.
"The goal for the next five years is to meet the demand to raise capital for socio-economic development as official development assistance (ODA) and preferential loans decrease," Hiền said.
To achieve this goal, Hiền said the Government needed to connect capital mobilisation through G-bonds with the administration of the State budget and fund management.
"We have to specify the annual capital mobilisation volume, and publicise the schedule, volume and terms of bond issuance on a quarterly basis in order to attract investors," Hiền said.
At the same time, she said market organisation and trading would be improved, shortening the process from issuance to registration, deposit, listing, trading and payment in accordance with the development of Industry 4.0 to increase liquidity in the secondary market.
The G-bond market has become an effective capital mobilisation channel for development investment.
The size of the market at the end of last month was equal to 25.1 per cent of GDP in 2019, 12 times higher than in 2009. The average trading volume in the first 11 months of this year reached VNĐ9 trillion (US$387.26 million) per session, increasing 24 times compared to 2009.
"Việt Nam's G-bond market has grown at an average rate of 27 per cent per year over the past decade, the highest growth rate in emerging economies in East Asia," Hiền said.
In addition, the G-bond market has also become an important medium and long-term capital mobilisation channel for the State budget. The focus on issuing long-term G-bonds has enabled the Government to increase borrowing in the domestic market and reduce foreign loans.
From 2009-19, the G-bond issuance channel mobilized VNĐ1.96 quadrillion for the State budget, an average of about VNĐ175 trillion per year.
Alwaleed Alatabani, the Lead Financial Sector Specialist at the World Bank in Việt Nam, said that in recent years, the G-bond market had achieved remarkable results. The WB highly appreciated the close co-operation of Vietnamese State agencies in the development of the G-bond market in Việt Nam.
He recommended that, as the market was growing, it was necessary to expand the network of investors holding G-bonds in order to gradually reduce the dependence on investors from the banking sector.
There was a need for a broader and more diverse legal framework to encourage non-banking investors, including those from insurance, investment funds and foreign investors, to participate in the G-bond market, Alatabani said. — VNS