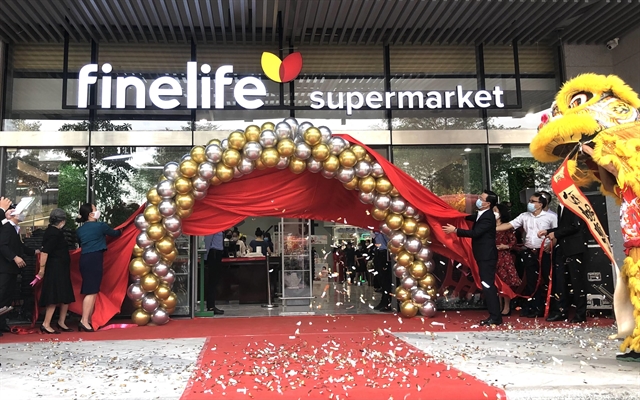 HCM CITY — High-end supermarket Finelife on February 3 opened its fourth store named Finelife Supermarket Urban Hill at 51A Nguyễn Văn Linh Street in HCM City's District 7.
Spread over an area of more than 2,000 sq.m, the store stocks more than 17,000 local and imported premium organic products like fresh and processed foods, cosmetics, deli foods, fruits, vegetables, and beverages besides premium household utensils, confectionery and fashion items.
With the motto 'Bringing the Fine Life closer to you,' Finelife is a modern retail model with outlets in prime locations selling premium food and non-food products, organic cosmetic products and imported products and having state-of-the-art customer services.
Depending on the location, Finelife plans to open stores in one of three formats – Finelife Corner (which has an average area of 400 sq.m), Finelife Food Store (1,000 sq.m) and Finelife Supermarket (more than 2,000 sq.m).
It is the first high-end supermarket system in Việt Nam to use automatic E-label technology, and Finelife Supermarket Urban Hill is also the first supermarket to have self-checkout counters for customers like some leading supermarkets around the world do.
In addition to free delivery and on-demand cooking services, Finelife Supermarket Urban Hill also has large areas dedicated to selling ready-to-eat products and Tết (Lunar New Year) products such as seafood, imported fruits and confectionery, and an area for products meant for mothers and babies.
The Finelife chain rarely offers discounts and instead focuses on creating a shopping experience for customers, but during its opening time, Finelife Supermarket Urban Hill is offering attractive promotions and gifts.
The Finelife high-end supermarket system belongs to Saigon Co.op. — VNS