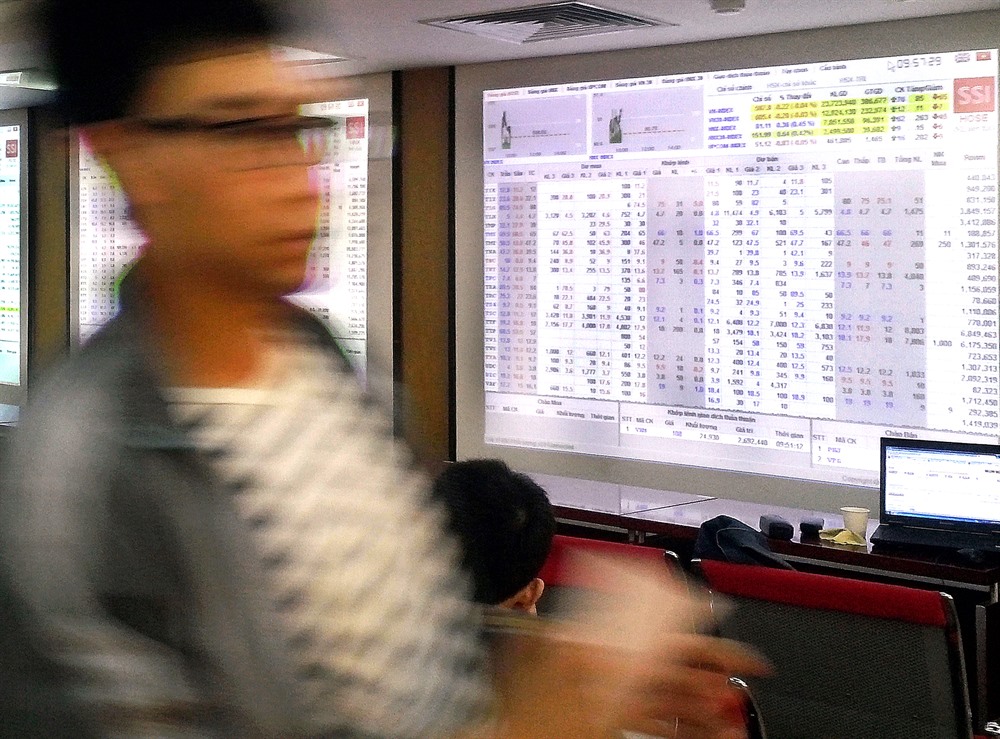 An investor passes by the trading boards at SSI Securities Inc. — VNS Photo Đoàn Tùng
Viet Nam News
HÀ NỘI — Financial-banking companies drove Vietnamese shares up for a second trading day on Wednesday.
The benchmark VN Index on the Hồ Chí Minh Stock Exchange gained 0.41 per cent to close at 1,005.41 points.
The southern market index has increased by 2.11 per cent in the past two trading sessions.
More than 229 million shares were traded on the southern bourse, worth VNĐ5.1 trillion (US$219 million).
Banks, securities companies and insurance firms, drove the stock market upwards.
The three industry indices gained between 0.3 per cent and 2.2 per cent, data on vietstock.vn showed.
None of the 10 bank stocks on HoSE declined. The best-performing ones were VPBank (VPB), Vietinbank (CTG), Techcombank (TCB) and Sacombank (STB).
Bảo Việt Securities Co (BVSC) said in a note that investors paid more attention to bank stocks, which have not gained strongly in recent weeks.
The strong growth of bank stocks may "enhance prospects in this sector and promise to flow to various stock groups," BVSC added.
Benefiting from the gains of bank stocks, securities firms and insurance companies also made good gains.
Financial stocks with good growth rates in the brokerage and insurance sectors included HCM City Securities (HCM), VNDirect Securities (VNĐ), Petrolimex Insurance (PGI) and Bảo Minh Securities (BMI).
Other sectors that gained included technology, retail, logistics, construction material production and rubber and plastic production.
The stock market performed well but market trading was volatile on Wednesday as investors tried to take profits out of large-cap stocks, especially when those stocks had made strong gains, Thành Công Securities JSC (TCSC) said in its daily report.
The VN Index may have more alternate ups and downs in the next few days to consolidate at the current level and investors will put heavier pressure on the market by selling more, TCSC added.
"The VN Index needs more time for consolidation and set up its short-term trend in the current market conditions.
"In a good scenario, the VN Index may head to the 1,020-1,025 point range while the 980 point level will be its supportive short-term bottom."
On the Hà Nội Stock Exchange, the HNX Index was up 0.25 per cent to end at 109.82 points.
The northern market index has increased by total 2.48 per cent in the past three trading days.
More than 74 million shares were traded on the northern bourse, worth VNĐ945 billion. — VNS