The Ministry of Finance has turned down Xuan Kien Automobile JSC (Vinaxuki) Chairman Bui Ngoc Huyen's proposal to be given more bank loans to resume his firm's Made-in-Vietnam car dream.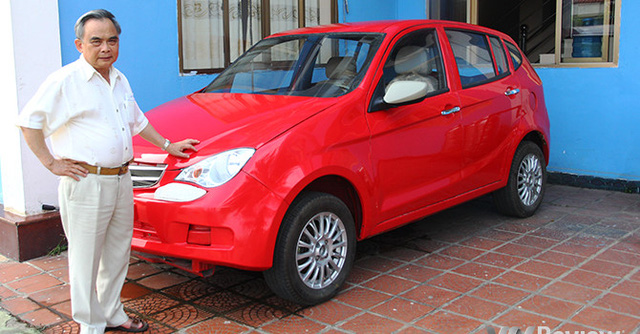 Bui Ngoc Huyen and his car
Huyen sent the proposal to the government, asking for more loans from the Bank for Investment and Development of Vietnam (BIDV) so that he could re-purchase Vinaxuki's bad debts sold to the Vietnam Asset Management Company (VAMC).
The Government Office required the Ministry of Finance to consider Huyen's appeal.
Huyen set up Vinaxuki with the dream to raise the localisation rate to produce cars of below nine seats to 50%. However, due to the impact of the global economic crisis during the 2010-2012 period, the company had to pay high-interest rates for loans in the context of a sluggish local car market. In 2011, banks urged Vinaxuki to sell their factories to repay their loans.
Meanwhile, some banks suddenly stopped providing the company loans despite their pledge before for the fear of the Made-in-Vietnam car project's potential risks.
The banks sold Vinaxuki's bad debts to VAMC, leaving the firm on the verge of bankruptcy. There are currently only a handful of employees at Me Linh-based factory, most of whom work as security guards.
Huyen has called for help from many banks and credit organisations; however, the situation has not improved.
He continues to nurture his dream of resuming the car project which he believed to be successful after six months.
However, in a recently-issued document, the Ministry of Finance said that the government's regulations do not allow a company to get loans from BIDV to buy back its bad debts from an organisation.
dtinews