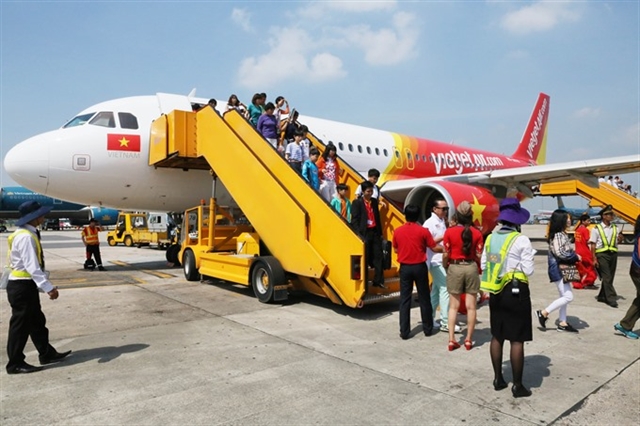 HÀ NỘI — Markets rallied for the second consecutive session on Thursday, partly thanks to the Fed's Wednesday announcement that it would keep interest rates unchanged and forecast no cuts or hikes in 2020.
The central bank's move helped boost market sentiment, Saigon-Hanoi Securities Co said in its daily report.
The VN-Index on the Hồ Chí Minh Stock Exchange (HOSE) rose 0.66 per cent to end Thursday at 968.17 points.
Nearly 219 million shares worth almost VNĐ4.2 trillion (US$182 million) were traded on the southern market.
The benchmark index increased 0.15 per cent to end Wednesday at 961.78 points.
Market breadth was positive with 202 shares gaining and 127 declining.
The large-cap VN30-Index soared by 0.74 per cent to stand at 884.80 points.
Bank stocks expanded at the end of the trading session, supporting indices. Gainers in the group included Vietcombank (VCB), rising by 1.9 per cent, VPBank (VPB), soaring by 2.1 per cent, Techcombank (TCB), up by 2 per cent, and Vietinbank (CTG) climbing 1.5 per cent.
Securities stocks also attracted cash flow, with many gainers like Saigon Securities Incorporation (SSI) (+2.1 per cent), Saigon-Hanoi Securities Co (SHS) (+2.6 per cent), HCM City Securities Corporation (HCM) (+0.9 per cent) and VNDirect Securities Corporation (VND) (+4 per cent).
Other large-caps also gained ground, such as Vinamilk (VNM) (+0.5 per cent), Vietjet (VJC) (+0.9 per cent), Việt Nam National Petroleum Group (PLX) (+0.9 per cent), and Vingroup (VIC) (+0.1 per cent).
In the opposite direction, some pillars suffered selling pressure, including Hòa Phát Group (HPG) (-0.8 per cent), PetroVietnam Gas JSC (GAS) (-0.2 per cent), PVPower (POW) (-0.8 per cent) and Vincom Retail (VRE) (-0.7 per cent).
On a sector basis, seven out of the 25 sectors saw share prices decreasing, including agriculture and construction materials.
On the opposite side, 18 sectors saw share prices climbing, including real estate, securities, food and beverage, insurance, wholesale, retail, healthcare, banking, information and technology, construction and mining.
On the Hà Nội Stock Exchange (HNX), the HNX-Index was up 0.32 per cent to end Thursday at 102.71 points.
Nearly 30.2 million shares were traded on the northern bourse, worth VNĐ290.3 billion.
The HNX-Index was up 0.33 per cent to end Wednesday at 102.38 points.
Foreign traders net sold VNĐ172.14 billion on the HOSE, including in Vinhomes (VHM) (VNĐ59.78 billion), Hòa Phát Group (HPG) (VNĐ27.02 billion) and Masan Group (MSN) (VNĐ18.10 billion). The net sold on the HNX with a value of VNĐ1.04 billion.
According to the Bảo Việt Securities Co, the VN-Index is forecast to challenge the resistance zone at 969-970 points during the last session of the week. — VNS