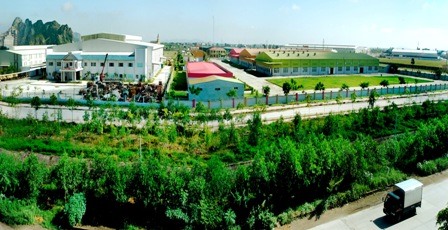 A corner of Khánh Phú Industrial Zone in Ninh Bình, part of the pilot eco-industrial zone initiative. – Photo khucongnghiep.com.vn
Viet Nam News
HÀ NỘI — Developing eco-industrial parks would help Việt Nam attract foreign direct investment and promote sustainable growth.
This conclusion highlighted a two-day conference ending yesterday about opportunities, challenges and barriers to eco-industrial parks in the country. It was co-organised by the Ministry of Planning and Investment and the United Nations Industrial Development Organisation (UNIDO) in HCM City as part of the "Implementation of eco-industrial park initiative for sustainable industrial zones in Việt Nam" project.
Trần Huy Đông, Director of the ministry's Department for Local and Regional Economy, said the increases in industrial production and industrial zones brought challenges like environmental pollution, negative impacts on residents' lives, the inefficient use of resources and the inadequate application of green technologies.
Đông said developing eco-industrial parks would help address all of these problems.
Đông said that in the future, the eco-industrial park model could be considered compulsory for production companies that discharge huge amounts of emissions.
Within the project, funded by the Global Environment Facility and Swiss State Secretariat of Economic Affairs, the eco-industrial park initiative has been implemented in Ninh Bình, Đà Nẵng and Cần Thơ with the participation of 72 companies over three years.
Vũ Quốc Huy, Deputy Director of the Department of Local and Regional Economy, said the pilot implementation of eco-industrial parks at Khánh Phú, Gián Khẩu industrial zones (IZs) (Ninh Bình Province), Hòa Khánh IZ (Đà Nẵng City) and Trà Nóc IZ (Cần Thơ) helped save hundreds of billions of đồng in the past three years.
Huy cited statistics showing that investment in the development of eco-industrial parks totalled VNĐ270 billion (US$11.74 million), but a sum of more than VNĐ171 billion was saved in the past three years by reducing the use of raw materials, power, water, fuel and chemicals. Solid waste discharge was reduced by more than 9,300 tonnes and waste water was reduced by 850,000 cu.m.
Huy said eco-industrial parks also had benefits in saving costs for companies, reducing resource consumption and discharge for the environment, improving labourers' health and living quality and reaching sustainable development goals for management agencies.
The ministry would issue a decree next year to complete the legal framework for the implementation of eco-industrial parks, Huy said, adding that regulations about recycling and waste treatment were the two most difficult matters in compiling the regulations.
According to Heinz Leuenberger of the University of Applied Sciences and Arts Northwestern Switzerland, it is important to have detailed instructions for enterprises and industrial parks to approach the eco-industrial park model. The parks must be made more attractive than traditional industrial zones to ensure feasibility, he said.
Nguyễn Thị Hồng Liễu from the Việt Nam Environment Administration said industrial park developers still paid little attention to building eco-industrial parks, adding that they were more focused on increasing occupancy.
Experts at the conference pointed out that eco-industrial parks would help attract quality foreign direct investment, improve competitiveness and promote sustainable growth in Việt Nam.
Smail Alhilali from UNIDO said eco-industrial parks would help reduce production waste and promote the use of recyclable materials.
The Government issued Decree No 82/2018/NĐ-CP on May 22 about economic and industrial zone management, which set criteria for eco-industrial parks.
According to UNIDO, an eco-industrial park is a community of businesses located on a common property where members seek enhanced environmental, economic and social performance through collaboration in managing environmental and resource issues.
Statistics from the Ministry of Planning and Investment showed that since 1991, Việt Nam has developed 326 industrial and processing zones with a total area of 94,000 hectares, attracting more than 16,000 projects with a total registered capital of more than $180 billion. — VNS