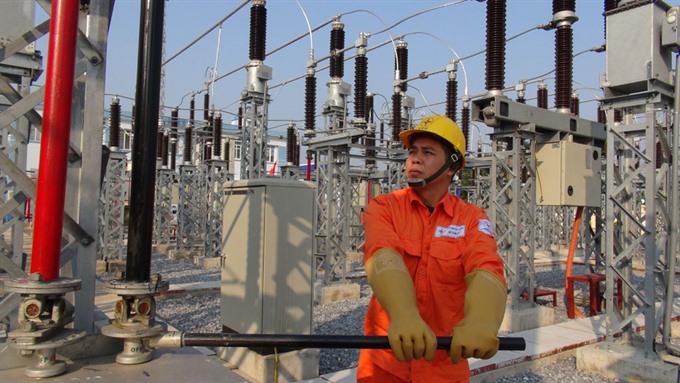 Deputy Prime Minister Vương Đình Huệ has asked the Ministry of Industry and Trade (MoIT) to quickly complete its plan for electricity tariff adjustment. — Photo evn.com.vn
Viet Nam News
HÀ NỘI — Deputy Prime Minister Vương Đình Huệ has asked the Ministry of Industry and Trade (MoIT) to quickly complete its plan for electricity tariff adjustment. However, the increase should be at the lowest level, he said.
Huệ said the country's consumer price index (CPI) in the first nine months of the year was under control, creating favourable conditions for adjusting prices of some items.
"CPI growth rate in the January-September period showed that inflation this year could meet the National Assembly's set targets of less than 4 per cent. However, there would be many factors affecting prices in the year-end months, such as increase of input and material as well as rising goods demand for the upcoming Tết (Lunar New Year) holiday," he said.
He added that price management should be cautious to curb inflation to less than 4 per cent, thus reducing costs for businesses and supporting the economy's growth.
The deputy PM's requirement was raised as power tariffs have not been adjusted for two years, resulting in lack of investment capital for developing new power resources.
For petroleum products, he asked the ministry to cooperate with MoF in continuing to manage the market following Decree No. 83/2014/NĐ-CP and suitably using the price stabilisation fund to control prices, especially on holidays and when there was a continuous increase in world petrol prices, to avoid high inflation.
He asked the Ministry of Agriculture and Rural Development to instruct localities to closely follow changes in the agricultural products market. The ministry should co-operate with MoIT in ensuring supply-demand balance of necessary products such as rice, food, sugar, he said.
The Ministry of Transport should undertake calculations with the MoF to negotiate and reduce fees of Build-Operate-Transfer (BOT) stations with the target to reduce at least a half of the audited stations in 2017.
He also required the Ministry of Health to instruct localities to complete adjustment of healthcare services fees outside the payment scope of the health insurance fund.
He noted that the Government should closely manage prices of aviation, education and training, BOT, construction, drugs and milk for children under six years and seaport services.
The State Bank of Việt Nam was, meanwhile, required to continue managing monetary policies flexibly in co-operation with financial policies to curb inflation. — VNS