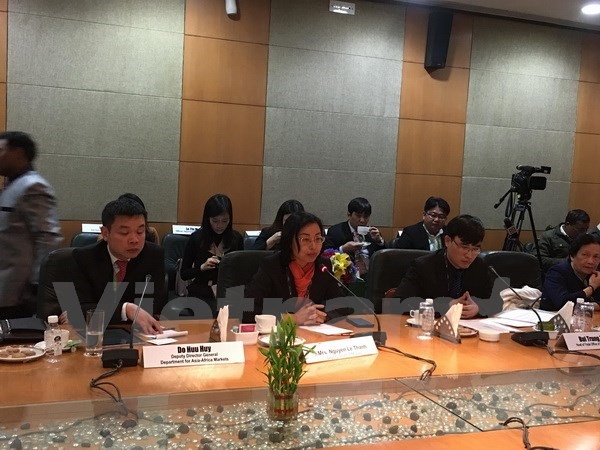 Vietnamese delegates at the conference. — VNA/VNS Photo Huy Bình
Viet Nam News
UTTAR PRADESH — Bilateral relations between Việt Nam and India have developed significantly over the past years, especially in trade, agriculture and food processing.
This was revealed at a conference in Uttar Pradesh in India on Thursday. The conference was held as part of the ongoing Global Food & Beverage Show of India.
Two-way trade between the two countries had grown from US$1.53 billion in 2007 to $7.63 billion in 2017. Vietnamese exports to India in particular increased by 21 times from $180 million to $3.76 billion.
Việt Nam exports coffee, pepper, cashew nuts and seafood to India, among others, while it imports meat, aquatic products, fruits, vegetables and animal feed from the Indian market.
In his speech at the conference, Bùi Trung Thướng, head of Trade Office at the Vietnamese Embassy in India, said there was scope for the two countries to accelerate bilateral co-operation in three reviewed areas.
Đỗ Hữu Huy, deputy head of the Asia-Africa Market Department from Việt Nam's Ministry of Industry and Trade, who was also present at the conference, agreed. He emphasised the importance of organsing trade promotion programmes in both countries, facilitating participation of the two countries' business communities in trade fairs and exhibitions, and speeding up the exchange of trade information to expand bilateral trade.
At the event, 30 Vietnamese enterprises in food and food processing, agriculture, forestry and fishery heard about the potential of the Indian food and beverages sector and met directly with Indian traders to explore new business opportunities.
The food and beverages industry is one of the sectors that India gives priority to. The country is now the world's leading producer of many agricultural commodities such as milk, rice, wheat, tea, cane sugar and spices. India's food processing industry is valued at $258 billion. The country's agricultural product and food export is predicted to reach $70 billion by 2020. — VNS