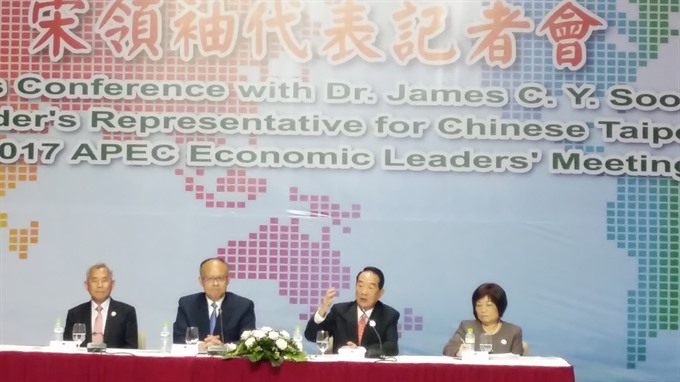 Representatives of the Chinese Taipei delegation at the APEC 2017 Summit in Đà Nẵng. – VNS Photo Công Thành
Viet Nam News
ĐÀ NẴNG – A bilateral trade agreement would significantly boost trade, investment and tourism between Chinese Taipei and Viet Nam, a senior official said yesterday.
James Soong, representative of the Chinese Taipei delegation at the APEC CEO 2017 Summit in Đà Nẵng, said he had visited Viet Nam three times and witnessed drastic growth in the country.
He said a trade agreement between the two APEC member economies and favourable conditions offered by Việt Nam would lure more investment from Chinese Taipei into the country.
He said Chinese Taipei has invested a lot in manufacturing industries (78 per cent of total investment projects), education, hi-tech agriculture and health care service, and will increase its investment in hi-tech industries and medical services in the coming years.
Soong also called for visa exemption for Chinese Taipei businesses and tourists in order to promote two-way trade, investment and tourism.
He said his government plans to exempt visas for Vietnamese management staffs and technicians participating in long-term education programmes in Chinese Taipei.
According to Việt Nam's Planning and Investment Ministry, Chinese Taipei, with more than 2,500 projects worth US$30.8 billion, is the fourth biggest foreign investor in Việt Nam.
In the first nine months of this year, Việt Nam has attracted 87 new projects from Chinese Taipei, while 64 existing projects have increased their investment. Together, the new and existing projects have a total capital of $935 million.
The southern province of Bình Dương alone has attracted 688 projects from Chinese Taipei with a total investment of $2.6 billion.
Soong said he hoped Đà Nẵng would soon emerge as the second favourite destination for Chinese Taipei investors.
Việt Nam exported farm produce and seafood worth $1.9 billion to Chinese Taipei in the first nine months of this year.
Chinese Taipei plans to import more agricultural and seafood products from Việt Nam in the years to come, Soong said. – VNS