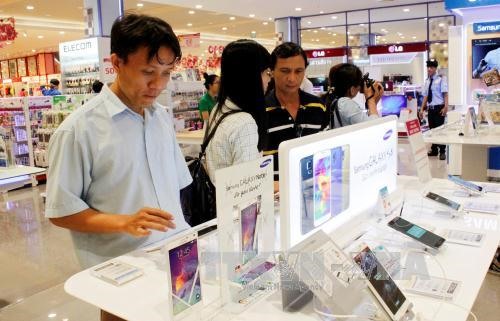 Customers shop at a supermarket in Cần Thơ. The city surpassed its 2017 retail revenue goal of VNĐ100 trillion. — VNA/VNS Photo Hải Âu.
Viet Nam News
CẦN THƠ — Cần Thơ's revenue from retail sales and services reached VNĐ106 trillion (US$4.7 billion), 10 per cent higher than 2016, according to Cần Thơ City's Department of Industry and Trade.
The city surpassed its 2017 goal of VNĐ100 trillion, achieving the highest revenue in the Mekong Delta region, and the third highest within Việt Nam's municipalities, after HCM City and Hà Nội.
Last year, more supermarkets and malls opened while outlying districts also saw more shops, boosting total retail revenue in the city.
Trương Quang Hoài Nam, the deputy chairman of Cần Thơ People's Committee, said the city achieved a high level of industry and trade last year, but noted that the modern retail facilities were concentrated in Ninh Kiều District, whereas other districts were not as developed.
Nam urged the department and other units to develop the retail sector in other districts such as Ô Môn, Thốt Nốt and Cái Răng.
For 2018, the city targets reaching retail revenue of VNĐ117.6 trillion, 10.9 per cent higher than 2017.
It also aims to increase export turnover by 1.2 per cent and decrease import turnover by 6.5 per cent this year.  
The city's Department of Industry and Trade aims to improve the processing industry and focus on products with higher added value, such as agriculture, aquatic products and other Cần Thơ's specialties, and attract more investors. — VNS