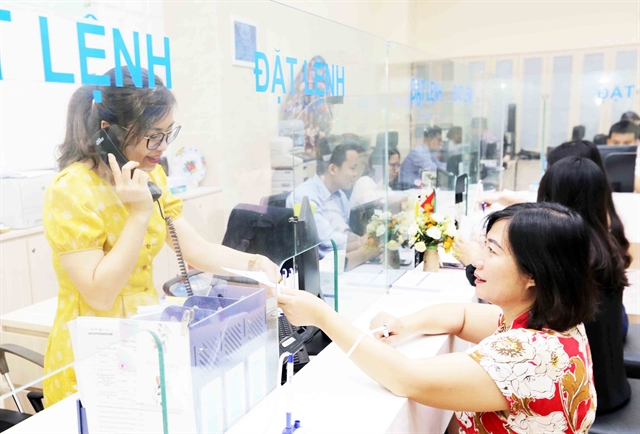 HÀ NỘI — Vietnamese shares made modest gains on Friday as strong growth of banks and tech firms neutralised increasing profit-taking pressure in consumer, retail and insurance stocks.
The benchmark VN-Index on the Hồ Chí Minh Stock Exchange inched up 0.06 per cent to 943.30 points.
The VN-Index has rallied a total of 2.66 per cent in the last six trading days and made a weekly gain of total 2.10 per cent.
The banking and technology sector indices gained 0.4 per cent and 3.5 per cent to drive the market up, according to vietstock.vn.
Leading technology and information company FPT Corp (FPT) jumped 3.9 per cent to VNĐ53,200 per share ahead of its third-quarter earnings report.
The banking sector was driven by Vietinbank (CTG), VPBank (VPB), Military Bank (MBB), and HDBank (HDB).
CTG jumped 3.7 per cent to VNĐ31,150 per share and MBB rose 1.4 per cent to VNĐ17,850 per share.
Military Bank has reported its net revenue in the third quarter gained 12.7 per cent on-year to VNĐ5.16 trillion and post-tax profit in July-September rose 9.6 per cent on-year to VNĐ2.42 trillion.
Vietinbank on Friday decided to ask for shareholders' approval on its dividend plan for the 2017-19 period. Under the plan, the bank will pay a 5 per cent cash dividend and a 29.8 per cent share dividend for the previous three years.
On the opposite side, consumer, retail and insurance stocks declined.
Consumer firm Masan (MSN) dropped 1.4 per cent, brewer Sabeco (SAB) edged down 0.8 per cent, Bảo Minh Insurance Corp (BMI) slumped 3.5 per cent, and retailer Mobile World Investment (MWG) fell 0.9 per cent.
The large-cap tracker VN30-Index rose 0.27 per cent to 901.59 points on Friday and the VN30 futures due on November 19 gained 0.73 per cent to 895.10 points.
But the small-cap and mid-cap indices on HoSE dropped 0.49 per cent and 0.04 per cent, respectively.
On the Hà Nội Stock Exchange, the HNX-Index added only 0.11 per cent to 139.82 points.
The northern market index has increased by total 2.88 per cent in the last four days.
The HNX-Index rose total 2.12 per cent this week.
More than 491.6 million shares were traded on the two exchanges, worth VNĐ9.93 trillion.
Profit taking pressure mounted on Friday, targeting the large-cap sector, and put the market at the risk of decline, Thành Công Securities Co (TCSC) said in its daily report.
The market trading liquidity fell from the previous day and indicated that a majority of investors were trying to look for lock in stocks' recent rallies, BIDV Securities Corp (BSC) said in a note. — VNS