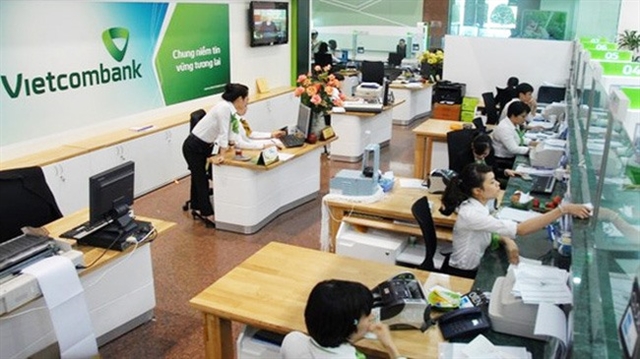 HÀ NỘI — Shares managed to increase on Wednesday thanks to the growth of banking stocks.
The VN-Index on the Hồ Chí Minh Stock Exchange (HOSE) increased 0.15 per cent to end Wednesday at 961.78 points.
Nearly 216.5 million shares worth almost VNĐ4.4 trillion (US$188 million) were traded on the southern market.
The benchmark index had lost 0.60 per cent to end Tuesday at 960.30 points.
Market breadth was neutral with 161 shares gaining and 152 declining.
The large-cap VN30-Index soared by 0.59 per cent to stand at 878.27 points.
For most of the morning and afternoon sessions, VN-Index only moved below reference level. However, in the last minutes, the strong pull from the banking sector helped the index rebound and stay over the 960-point level.
Gainers in the banking group included Vietcombank (VCB) (0.6 per cent), Military Bank (MBB) (3.3 per cent), Techcombank (TCB) (1.3 per cent) and Bank for Investment and Development (BID) (0.5 per cent).
Other blue-chips also well-performed such as Mobile World Group (MWG) (+1.8 per cent),  Novaland (NVL) (+1.4 per cent), Vinamilk (VNM) (+0.3 per cent), PetroVietnam Gas JSC (GAS) (+0.2 per cent), Vincom Retail (VRE) (+0.3 per cent) and Bảo Việt Holdings (BVH) (+0.4 per cent).
In the opposite direction, there are still a lot of pillars suffered selling pressure, such as Vinhomes (VHM) (-0.4 per cent), Việt Nam National Petroleum Group (PLX) (-1.6 per cent), Masan Group (MSN) (-1.6 per cent) and Vietinbank (CTG) (-1.0 per cent).
According to BIDV Securities Co (BSC), although there was an improvement in the score, the market saw a gloomy session when the liquidity dropped and foreign investors still saw a strong net selling.
Foreign investors net sold VNĐ167.35 billion on the HOSE, including Masan Group (MSN) (VNĐ57.55 billion), Saigon Ground Services JSC (SGN) (VNĐ42.94 billion) and Vinhomes (VHM) (VNĐ21.90 billion).
The cautious sentiment of the market would continue in the context that major central banks in the world such as FED and ECB were entering the last important policy meetings of this year, BSC said.
On a sector basis, 10 out of the 25 sectors saw share prices decreasing, including real estate, securities, mining, rubber production, plastic and chemicals production, and food and beverage.
On the opposite side, 15 sectors saw share prices climbing, including insurance, wholesale, retail, healthcare, agriculture, banking, information and technology, construction and construction materials.
On the Hà Nội Stock Exchange (HNX), the HNX-Index was up 0.33 per cent to end Wednesday at 102.38 points.
Nearly 24.7 million shares were traded on the northern bourse, worth VNĐ264 billion.
The index was down 0.31 per cent to end Tuesday at 102.04 points.
In the new supplement, Asian Development Bank (ADB) raised Việt Nam's growth forecast from 6.8 per cent to 6.9 per cent in 2019 and from 6.7 per cent to 6.8 per cent in 2020. Việt Nam's GDP growth in the first three quarters of 2019 reached 7 per cent, the highest in the past nine years.
Personal consumption increased 7.3 per cent, and investment up 7.7 per cent thanks to an improved business environment, high investor confidence and an increase in foreign direct investment.
These information partly improved investor's sentiment during Wednesday's trading. — VNS