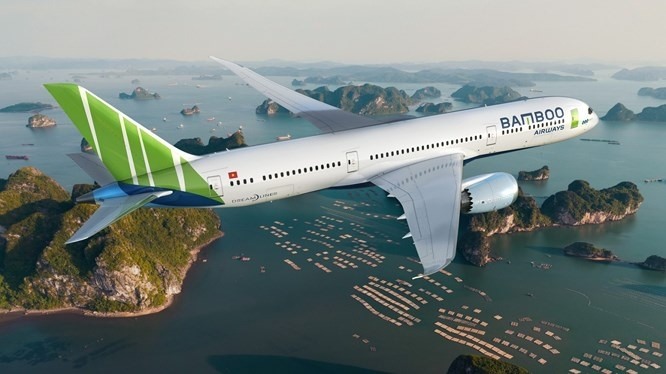 Bamboo Airways will officially start selling tickets from 12pm on January 12. — VNS Photo
Viet Nam News
HÀ NỘI — Bamboo Airways, the fifth airline to launch in Việt Nam, would start selling tickets from 12pm on Saturday, Vice President Dương Thị Mai Hoa said on Thursday.
The airline had integrated multiple payment gateways onto its website, like NAPAS, VNPay and the mobile app from Military Bank, she said.
Bamboo Aiways will provide a wide range of tickets, namely Bamboo Eco, Bamboo Plus, and Bamboo Business. Customers can also buy tickets at Bamboo's 1,000 agents nationwide.
Additionally, check-in procedures can be carried out via mobile phone, QR Code or check-in kiosks at the airport during the second quarter.
The airline is planning various promotional campaigns before its first flight takes off. Bamboo Airways received its licence to transport passengers, mail and freight following national flag carrier Vietnam Airlines, budget operators Jetstar Pacific, Vietjet Air, and Việt Nam Air Service (VASCO).
Bamboo Airways is part of the Việt Bamboo Airlines Company based in Quy Nhơn in Bình Định Province. Việt Bamboo Airlines Company, owned by property developer FLC Group, was established in 2017 with charter capital of VNĐ700 billion (US$31.4 million).
FLC has positioned Bamboo Airways as a hybrid airline, blending low-cost traits with those of traditional or full-service carriers to meet the demands of every market segment.
The group has also invested in infrastructure for aviation operations, such as upgrading Phù Cát Airport in Quy Nhơn City and roads connecting the airport to the Nhơn Hội Economic Zone.
The carrier will operate 37 routes connecting major cities and tourist destinations at home and abroad in 2019. The first domestic routes will be Hà Nội – Quy Nhơn, Hà Nội – Đồng Hới, HCM City – Quy Nhơn, Hà Nội – HCM City, and HCM City – Vân Đồn. Up to 60 domestic flights per day are planned. Flights to Asia and Europe such as Japan, South Korea and Singapore will use wide-body aircraft. It has also signed a memorandum of understanding with the Civil Authority of Việt Nam on using landing services and security checks at Tân Sơn Nhất (HCM City), Nội Bài (Hà Nội), Phù Cát (Quy Nhơn), Đồng Hới (Quảng Bình), Thọ Xuân (Thanh Hóa) and Cát Bi (Hải Phòng). — VNS