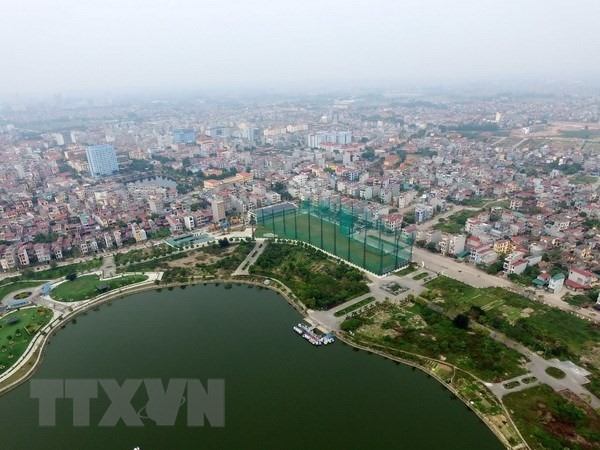 An overview of Bắc Giang Province. — Photo VNA
Viet Nam News
BẮC GIANG — The northern province of Bắc Giang is working out measures to attract US$2 billion in domestic and foreign investment in 2018. 
Priority will be given to projects in the fields of transport, energy, key urban area development, supporting technology for garment-textile and footwear sectors, hi-tech industry, spare parts, hi-tech agriculture and farm produce preservation and processing. 
The province will also focus on developing various forms of tourism, such as spiritual tourism, eco-tourism and resort tourism with hi-end hotels. 
To realise the target, the local authorities have requested investors of industrial parks to speed up the completion of technical infrastructure. 
The province is also accelerating the compensation for land clearance at Hòa Phú Industrial Park and selecting investors to build infrastructure at Việt Nam-Korea Industrial Park. 
It has asked the embassies of Japan and South Korea, along with the Japanese Chamber of Commerce and Industry in Việt Nam, Japan External Trade Organisation, Korea Chamber of Commerce and Industry, and Korea Chamber of Business in Việt Nam to organise annual meetings with investors in the province to help solve their problems. 
This year, Bắc Giang will set up a list of investment projects and disseminating investment policies to investors in addition to promoting investment cooperation activities and increasing support for businesses while implementing projects. 
In the first four months of 2018, Bắc Giang licensed 77 newly registered and capital-added projects, with a total capital of over $206 million. 
Since 2017, the province has attracted major investment projects, including An Khánh thermal power plant, DNP clean water supply plant, infrastructure investment at Lam Sơn industrial cluster, Khải Hoàng plastic plant, establishment of Lens Technology Co Ltd and social housing construction for workers at Vạn Trung Industrial Park. — VNS