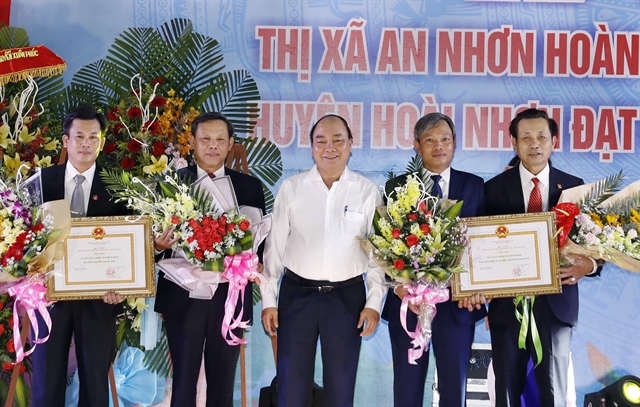 HÀ NỘI — Prime Minister Nguyễn Xuân Phúc wants the central regions of Việt Nam to become a driving force for the country's socio-economic development and an important sea gateway of the Central Highlands provinces linking the East-West corridor.
Phúc made the statement at a conference on reviewing results, shortcomings and limitations in socio-economic development held in the central province of Bình Định on Tuesday, with the participation of representatives of foreign and domestic investors, economists, researchers and more than 700 delegates.
The central region, an important part of the country stretching from Thanh Hóa to Bình Thuận, is linked by 14 provinces and cities, with a coastline of up to 1,900 km. The region has nine airports, including five international airports, and 14 seaport groups, of which, there are eight groups of deep-water ports.
Phúc said that "economic development in the Central region is not a private affair of 14 central provinces". All ministries and local authorities should pay attention to its development.
"It's necessary to issue specific proposals, especially ideas and solutions that can be implemented right now or in 2020," he said.
"The ministries and localities need to point out bottlenecks, finding new solutions and taking steps to promote the Central region's economic development in the next period," he added.
Phúc said the economic scale of the Central region reached nearly VNĐ1 quadrillion, accounting for 20 per cent of national GDP. "This figure was low compared with its tourism potential. We need to increase this proportion."
He said it must issue motivations to promote the region's development in three aspects relevant to institutional policies, force (industry, agriculture, sea economy and tourism), and factors (natural resources, people and science-technology).
At the conference, Minister of Planning and Investment Nguyễn Chí Dũng pointed out bottlenecks hindering the development of the region, including its modest economic scale and limited growth. Out of 14 provinces, only Thanh Hóa, Hà Tĩnh, Quảng Ngãi and Quảng Nam have large-scale projects. The remaining provinces have low growth rates and have not yet exploited the existing seaport and airport systems.
"The inter-regional transport infrastructure is weak and insufficient, while it has not yet connected provinces and areas along the central coastline. Meanwhile, the risks of freshwater shortages, salinity and drought have increased. Environmental pollution in economic zones, industrial zones and industrial production areas is still high," Dũng said.
He emphasised that the attraction of foreign investment was low, mainly focused on small- and medium-sized projects. "Big foreign investors, corporations and large enterprises are reluctant to invest in areas frequently hit by natural disasters, floods and storms."
He said the quality of human resources is also a problem. The rate of qualified workers is only about 22-23 per cent – the lowest in the country.
Solutions given
Minister Dũng proposed three groups of solutions to promote the Central region's socio-economic development, so it can become a driving force and an economic leader of the country.
As for the group of policies relevant to development, the ministry required other ministries and localities to speed up regional planning and construction following the Law on Planning, focusing on sea and coastal areas, completing the transportation system linking North-South and the system of East-West crossroads connecting seaports and coastal provinces in the Central Highlands.
In the group of solutions boosting the economy, the ministry proposed to enhance tourism quality, build national brands and products for the region's advantageous products with high added value, enhancing the contribution of science and technology to high value-added industries and competitive advantages to join global production and value chains.
Regarding the group of solutions for management, the ministry proposed the State give decisive power to the Council for the Central Key Economic Region, improving institutions to promote the activeness and creativity of the council members.
Dũng said it was necessary to select a number of cooperation activities in the area of ​​science and technology in the region, mobilising the advantages of localities, universities, research organisations and large investors to have qualified products and supporting technology incubation centres, which should be seen as a key factor for the application of science, technology and innovation. — VNS