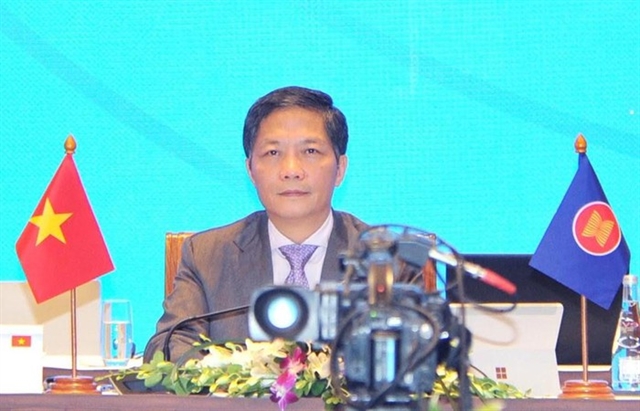 HÀ NỘI – ASEAN Economic Ministers held a video conference with the region's partner countries including China, Japan and South Korea (ASEAN+3) on Friday.
The meeting, organised within the framework of the 52nd ASEAN Economic Ministers Meeting and related conferences (AEM-52), was chaired by Việt Nam's Minister of Industry and Trade Trần Tuấn Anh, China's Minister of Commerce Zhong Shan, Japan's Minister of Economy, Trade and Industry Kajiyama Hiroshi, and South Korea's Minister of Trade, Industry and Energy Yoo Myung Hee.
According to statistics from ASEAN, the total value of trade transactions between ASEAN and the three partner countries reached US$890.2 trillion, contributing 31.6 per cent to the total value of ASEAN trade transactions with all partners in 2019, a slight increase of nearly 1.5 per cent year-on-year.
The total value of foreign direct investment (FDI) from these three countries to ASEAN reached about $32 trillion in 2019, 19.9 per cent ​​of the total FDI into ASEAN.
The ministers expressed their deepest sympathies and concerns about the loss of lives and suffering caused by the COVID-19 pandemic. They agreed to continue co-operation to fight the pandemic, develop the economy and stabilise macro policies among parties, as well as maintaining supply chains, especially for essential goods such as medical goods and food.
The ministers emphasised the importance of keeping the business community's confidence in the region post-COVID-19 pandemic and focusing resources on economic promotion, social stability, particularly the signing of the Agreement For Regional Economic Comprehensive Partnership (RCEP) in 2020.
To effectively implement the ASEAN + 3 Joint Statement on Mitigating The Economic Impact of the COVID-19 Pandemic, which was adopted by the ASEAN +3 ministers on June 4, the ministers agreed to strengthen co-operation to implement the action plan between the two sides, promoting economic development, minimising risks brought by COVID-19, and being ready to deal with any unexpected situations in the region.
The ministers also welcomed positive progress in negotiating the RCEP and effective preparation steps for the signing of this agreement by the end of this year.
They also reaffirmed the important role of the RCEP in enhancing the trust of the business community and strengthening the structure of the regional economy, as well as proving the region's support towards an open and equitable trading system based on common principles. – VNS