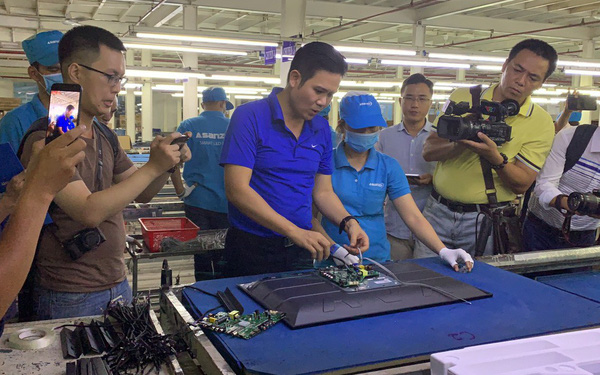 HÀ NỘI – Minister of Industry and Trade Trần Tuấn Anh has asked Government agencies to inspect potential wrongdoings at Asanzo Vietnam Electronics JSC to protect the rights and benefits of consumers and ensure a healthy business environment.
Asanzo Vietnam Electronics JSC has reportedly been selling finished products imported from China labelled as "Made in Vietnam" goods, which has stirred public concern over whether buyers and consumers are being cheated.
Minister Anh on June 25 asked the departments of Import and Export, Industry, Science and Technology, Domestic Market and Market Management to review the case and deliver a report to the ministry and the Prime Minister.
On June 24, Prime Minister Nguyễn Xuân Phúc asked the ministries of Finance, Industry and Trade, and Public Security, the National 389 Standing Committee and other government agencies to work together on the case and report to the Government by July 30.
Director of the General Department of Market Management Trần Hữu Linh told plo.vn that his agency would visit the company and check the origins of all products.
Local media on June 21 reported Asanzo Vietnam Electronics JSC had set up dummy companies to import spare parts from China for assembly in Việt Nam. Then workers allegedly removed the "Made in China" stamps, assembled them into finished products and labelled them "Made in Vietnam".
Asanzo Vietnam Chairman Phạm Văn Tam denied his company had been selling Chinese products in the guise of "Made in Vietnam" at a meeting on June 23.
Removing "Made in China" from spare parts did not benefit the company and even cost it more money as it would make the work process more complicated, he told reporters.
Seventy per cent of the finished products came from China and other countries such as the circuit boards, back panels and screens as Việt Nam was unable to produce these parts while suppliers in China and other countries were very good at it, he said.
Many other firms did the same, Tam said, adding 30 per cent of the finished items were produced by Vietnamese companies.
Tam also claimed the company's products should have been labelled "Assembled in Vietnam". – VNS