VietNamNet Bridge – Apple Vietnam has asked that some requirements on import examination be removed  to shorten the time needed for customs clearance.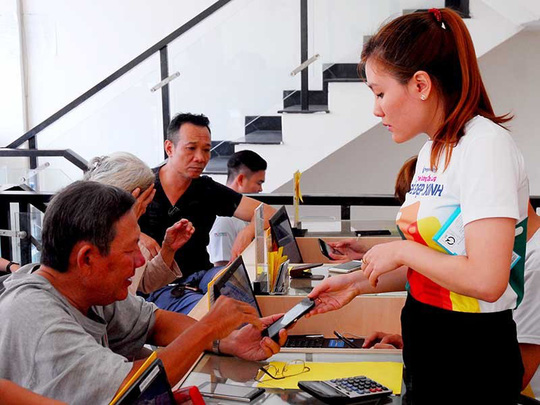 Vietnamese businesses are also complaining about the complicated procedures.
Under the current regulations, Apple must obtain licenses for every consignment of imports. It has also asked to remove the requirement on licenses to import Apple Watches and licenses to import mobilephone products stipulated in Circular 18/2014.
Chair of the Government Office Mai Tien Dung spoke about Apple's imports at a working session with ministries on examination procedures.
"Even iPhone 7 and iPhone 8 also have to bear examination, and Vietnam doesn't have laboratories and technologies for examining," Dung said. "The products from G7 countries still cannot be done in Vietnam, but we still examine them."
Meanwhile, an analyst said Vietnamese inspection bodies examine imports without specialized instruments. Therefore, it is unreasonableto have imports examined and collect VND1 million in examination fees.
Not only Apple, but other gian firms also have difficulties because of the complicated procedures in Vietnam.
Not only Apple, but other gian firms also have difficulties because of the complicated procedures in Vietnam. VCCI's (Vietnam Chamber of Commerce & Industry) chair Vu Tien Loc commented that the requirements on administrative procedures are so complicated that even Boeing cannot satisfy them.
Meanwhile, FPT's CEO Bui Quang Ngoc commented some policies are 'designed in a way to trap businesses'.
A representative of a foreign-invested technology enterprise said it still has to follow a strict examination procedure even though the imports are only for internal testing, not commercial purposes.
"It takes too much time. In general, the procedure lasts 35-45 days," he said.
He went on to say that there are many problems in MOIT's (Ministry of Industry and Trade) Circular 04/2014 on used imports. 
At his company, computers are replaced once every two years. The new computers are imports, so the enterprise has to follow certain procedures. 
His company wants to donate the old computers to schools or organizations, but it had to donate computers to Myanmar because of the complicated procedures.
The Ministry of Finance (MOF) has agreed with Apple that it would be better to remove the licensing for every consignment of imports in accordance with Circular 18.
Regarding the conformity certification, MOF thinks that Vietnam needs to recognize the conformity certificates granted by international organizations as the basis for assessing import quality.  
Regarding the licensing to Apple Watch device imports, the ministry said if the capacity of Apple Watch products is less than 60 mW, Apple does not have to get a license for imports from the Ministry of Information and Communication.
RELATED NEWS
Apple takes actions on unauthorised VN shops
The Gioi Di Dong, FPT Shop are top agents for Apple products
Thanh Mai