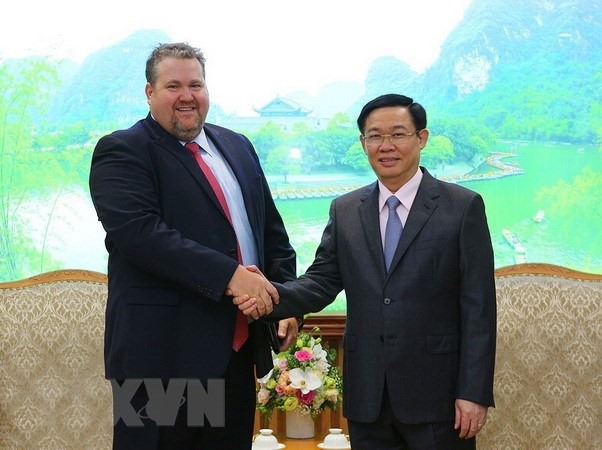 Deputy Prime Minister Vương Đình Huệ and AES Vietnam President David Stone. — Photo VNA
Viet Nam News
HÀ NỘI — US-based AES Corporation wants to invest in Sơn Mỹ 2 thermal power plant in the central province of Bình Thuận under the form of Build-Operate-Transfer (BOT).
The proposal was made by AES Vietnam President David Stone at a meeting with Deputy Prime Minister Vương Đình Huệ in Hà Nội on Thursday.
Stone said AES was listed among the 200 global energy companies ranked by Fortune magazine. The company currently owns a liquefied natural gas (LNG) project in the Dominican Republic and had invested in an LNG depot in Panama.
At the meeting, Stone said his company was carrying out researches for investment in Sơn Mỹ 2 gas-fired thermal power project in the form of BOT and hoped its participation would contribute to boosting trade and investment between Việt Nam and the United States. 
The project consists of three LNG-powered plants, with a designed capacity of 750MW each. Built at the Sơn Mỹ industry-services-gas complex in the central coastal province of Bình Thuận, the facilities are set to become operational in 2023-25.
Huệ said he supported the LNG terminal project, urging both sides to speed up the signing of a partnership contract to implement the project at the earliest.
Regarding the Sơn Mỹ 2 project, he requested AES to work with PV Gas to identify the most suitable investment model, adding that the Vietnamese Ministry of Industry and Trade will directly address difficulties, if any, arising from the cooperation.
AES is known for its 1,242MW Mông Dương 2 power plant in the northern province of Quảng Ninh in Việt Nam. The coal-fired power plant was built under a BOT agreement and will be transferred to the Government after 25 years. It has been constructed in collaboration with PetroVietnam Gas JSC to carry out a liquefied gas depot project in Hàm Tân District in Bình Thuận Province. — VNS