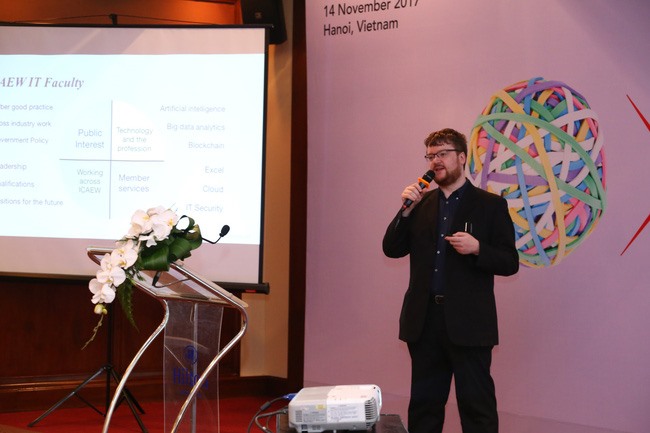 David Lyford-Smith shares the findings of recent research on how digital technology trends are changing accounting. — Photo cafef.vn
Viet Nam News
HÀ NỘI — As digital technology transforms businesses and economies across the globe and increasingly affects the accountancy profession, it is imperative for members to equip themselves with the skills to deliver higher-value services or risk becoming marginalised by automation and artificial intelligence.
The statement was made by David Lyford-Smith, technical manager of Information Technology Faculty, Institute of Chartered Accountants in England and Wales (ICAEW), at a conference held in Hà Nội on Tuesday.
Digital technology powered by exponential growth of computing power opens a whole new world of opportunities, according to the manager. This allows for unprecedented innovations in financial services resulting in a higher level of operational efficiency and access to entirely new markets. A good example of the technology that is changing today's global business landscape is 'blockchain'- a system of universal entry book-keeping where a transaction or a single input of data can be easily viewed by or shared with many parties on the same network in a systematic and secure manner.
"If a marketplace or system is running on a blockchain, the nature of assurance that is needed will change.  You don't need assurance that your asset exists or that your records agree with others' because that's certain in a blockchain environment. So instead the focus of assurance turns to the tie between the blockchain record and the physical world, and more generally to the economic reality of the transaction that is seen in the blockchain," Lyford-Smith said.
"For example, a blockchain might give you certainty over the timing and amount of a purchase of some goods, but it can't assure you of the condition of those goods,"  he added.
One much-cited use of blockchain is in land registry. The provenance and transfer of geographical assets is a great fit for its transparency, verifiability and ability to publicly show who has previously owned, sold and divided land.
These days, finance and business processes are increasingly moving online. Some finance functions have recently focused on increasing operational efficiency through sophisticated capabilities such as automation, artificial intelligence, and natural language processing.
For instance, some are using virtual assistants instead of finance staff in answering questions from suppliers on invoices and payments.The world is also seeing a renewed focus on shared service centres, global process hubs and outsourcing, where economies of scale justify substantial investments in extensive process automation.
To take advantage of these new emerging opportunities, it is important for accountants to look out for the key trends including big data, crypto currencies, distributed ledger systems, payment systems, mobile money, and also new platforms connecting providers and users of financial services as well as analytics-based financial services.
However, along with new opportunities, comes the growing fear that traditional approach to financial reporting and routine accounting tasks are steadily being taken away by automation and artificial intelligence.
Members of the profession are not adapting to the new technological trends quickly enough to take advantage of the new available platforms and risk becoming marginalised.
Sharing his view on the future role of accountants, Lyford-Smith said: 'I think what will happen is not that accountants will disappear, but that the definition of an accountant will evolve and that the profession as a whole will move to the higher-value adding activities such as assurance over complex areas, analysis, prediction, and advisory services'.
Nguyễn Cảnh Thắng, deputy head of Sectorial Economic Laws Division, Department of Civil and Economic Laws, Ministry of Justice, said that currently, transactions related to virtual currency such as Bitcoin had been used by many individuals, but the protection or adjustment of the transaction was not yet regulated by law.
The rules on external assets were very specific, however, virtual property is currently not regulated.
According to Decision No. 1255/QĐ-TTg on virtual currency, electronic currency and virtual property, electronic currency is considered a means of payment. "Electronic currency is displayed as an electronic wallet with a 1: 1 conversion rate with the real cash that it is legally recognised by law. The things which are not regulated will not be considered electronic money, for example, bitcoin is not considered electronic money used in payment," Thắng added.
Thắng also suggested that the law need to have clear provisions to ensure fair dealing for traders. "Virtual property is a very broad issue compared to virtual currency and electronic currency. If virtual property is considered as real property, the goods will involve many other issues, especially tax," Thắng told Việt Nam News.
The event was organised by ICAEW in Việt Nam and drew the participation of representatives from the Ministry of Finance, the General Department of Taxation and experts in financial sector. — VNS