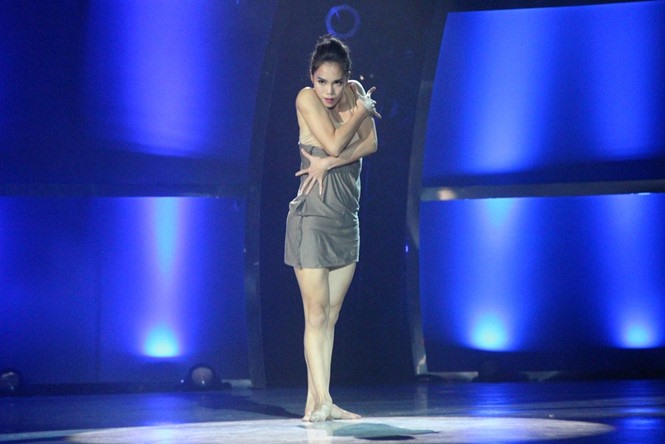 Female dancer and choreographer Đỗ Hải Anh will perform at the 8th International Dancers & Choreographers' Residency Festival (DanzINC Festival 2018) in Singapore next month. — VNS Photo Phan Giang
Viet Nam News
HCM CITY—  Young dancer and choreographer Hải Anh and her colleagues in HCM City are working to prepare for her performance at the 8th International Dancers & Choreographers' Residency Festival (DanzINC Festival 2018) in Singapore next month.
Anh and dancers Hà Lộc and Như Ý of the dance group Unicorn Dance Studio will perform a contemporary dance called Yên Lam (Peaceful Blue), based on Vietnamese folk dance. 
Traditional music performed on folk instruments will accompany the dance.
"Our dance, Yên Lam, highlights the inner beauty of humans. It is a journey to evoke passion and memories," said 28-year-old Anh, winner of Thử Thách Cùng Bước Nhảy 2015 (Challenges You to Dance), a Vietnamese version of the famous American TV game show So You Think You Can Dance.
Their show will be staged at the event International Choreographer's Platform at Victoria Theatre on August 18.  
The biennial DanzINC is organised by the Odyssey Dance Theatre Ltd of Singapore, one of Asia Pacific's professional dance organizations, and aims to encourage young dancers and groups from Asian countries to introduce and exchange their traditional dances and show off their talent as well.
This year, the festival will attract many young talents and skilled artists who perform ballet and contemporary dances in different styles.   
The six-week event will also include a series of talks, workshops and seminars on dances.
Dancer and choreographer Anh began dancing when she was three and turned professional at 12 years old. .
A graduate of Việt Nam Dance College, she has won several top prizes at national and international dancing contests, including the Korea International Modern Dance Competition 2012.
She opened a dance school for children aged four to 11 last year.
She was invited to join the DanzINC 2018 after her show at Singapore following the invitation of Dr. Danny Tan, founder of Odyssey Dance Theatre Ltd, last year. 
Anh will stage a solo performance at the ODT Theatre on August 10.  She will perform with dancers from the Odyssey Dance Theatre on August 16.
The artist and her colleagues at Unicorn Dance Studio will dance with the ODT Young Company at ODT Theatre on August 17.
Anh said her dance, Yên Lam, would be performed later in HCM City in October. — VNS