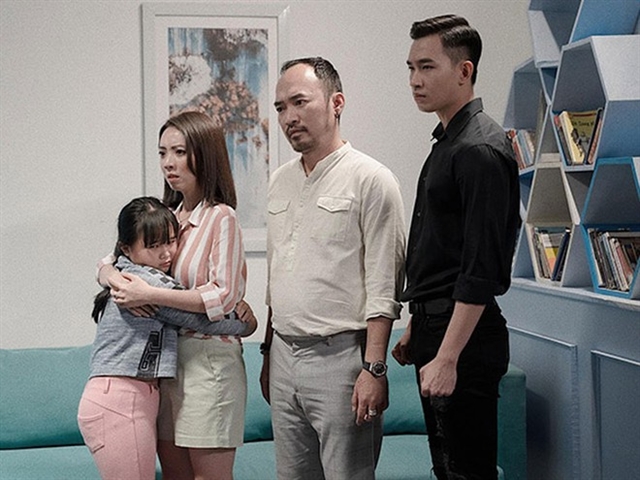 HCM CITY — Drama series produced by local artists and uploaded online have attracted a significant number of viewers recently.
Compared to years ago, web dramas today are produced more professionally, with some episodes costing billions of đồng to make.
Many local artists have chosen the internet to showcase their talent. While artists Thu Trang and Tiến Luật are famous for web drama Thập Tam Muội, MC Trấn Thành is popular for Bố Già.
Due to the COVID-19 pandemic and fewer visitors to local cinemas, web dramas have been embraced more than ever. 
After the hit Bố Già web drama, Trấn Thành began showing Đặc Vụ Thời Gian on his YouTube channel in mid-August. The new web drama has an interesting mix of detective, action and comedy genres, and has done well.
In the web drama, Trấn Thành plays an agent with outstanding analytical skills. He is often assigned to difficult tasks, including rescuing innocent children.
In addition to Trấn Thành, popular artists Hữu Tín, Tùng Yuki and Lê Giang appear in Đặc Vụ Thời Gian.
Meanwhile, Bộ Tứ Oan Gia is the latest production of artists Thu Trang and Tiến Luật. The comedy web drama, directed by Võ Thanh Hoà, began on August 14. 
Singer Vương Tuấn Kiệt's life and his father's involvement in a money laundering scheme is the main plot of Bộ Tứ Oan Gia. 
Singer and actress Minh Hằng has also jumped on the web drama bandwagon and acted in six episodes of Kẻ săn tin, together with many artists such as Khả Ngân, Lâm Bảo Châu, Xuân Phúc, Minh Dự, Huỳnh Lập and Duy Khánh.
Plots in Kẻ săn tin reflect existing social issues, namely kidnapping, pedophilia, and gangsterism, among others.
Other notable web dramas in the market include Đệ nhất kỹ nam by Lê Dương Bảo Lâm, Xin chào Papa by Tuấn Trần, Yêu lại từ đầu by Việt Hương, Xóm sân si by Duy Khánh, Đại kê chạy đi 2 by People's Artist Hồng Vân, Nhà trọ có qúa trời phòng 2 by Nam Thư, Thằng khờ 3 by Quách Ngọc Tuyên, Idol tý phú by POPS company and Hải đường trong gió by Vie Channel company. 
Lớp trưởng tôi là đại ca, Cô gíao tôi là trùm cuối and Cô chủ nhà tốt bụng, all produced by young artists, have also made it to the Top Trending lists on YouTube.
Flaws
Many web dramas have successfully shown their potential and locals often prefer them to traditional media. Unlike traditional platforms, viewers only need a smartphone to access web dramas on the net.
Competition in this market is fierce, many experts have said.
Despite their success, flaws such as the use of extreme violence, illogical scripts and unnecessary humour have been picked up from well-known web dramas.
Recently, Minh Hằng decided to temporarily remove the third episode of Kẻ Săn Tin to fix its flaws after receiving negative feedback that the web drama is too violent.
"Due to the nature of viewers watching web dramas, many producers might think that it is necessary to use humour as a selling point. However, web dramas done in the way of a movie should be more than that. If producers can fix this, Vietnamese web dramas will not be any less than their international counterparts. Not to mention, this industry has a lot of potential for young artists," director Luk Vân said.  VNS