HÀ NỘI — The Ministry of Culture, Sports and Tourism has set up an exhibition of lacquer paintings at the Russian Museum of Contemporary History in Moscow.
One of several activities and events within the framework of the 2019 Việt Nam Culture Days in Russia held from May 21-28, the exhibition showcases 30 works.
"Lacquer is a unique painting material of Việt Nam," Mã Thế Anh, deputy head of the Exhibition, Photography and Fine Arts Department told the exhibition opening ceremony. "The appeal of the unique and durable material has attracted generations of Vietnamese painters."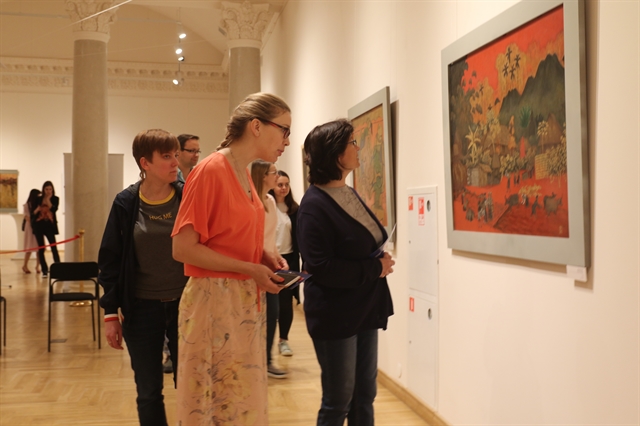 Deputy Minister of Culture Pavel Stepanov expressed his pleasure at attending the event and read a welcome letter from Minister of Culture Vladimir Medinski.
Another exhibition, Ancient Vietnamese Culture, is being held at the State Hermitage Museum in St Petersburg.
It has on display around 200 artefacts, antiques and treasures that reveal how the present-day multi-ethnic, multi-cultural Việt Nam originated from old cultures spread across the country at different times.
Many of them are from the country's three major ancient civilisations: Đông Sơn in the north, Sa Huỳnh in the central region and Đồng Nai-Óc Eo in the south.
According to the festival organisers, the Việt Nam National Museum of History, the artefacts at the exhibition reflect the vitality of the Đông Sơn culture and indicate it is the origin of Vietnamese culture.
The event also includes performances by the Việt Nam Music and Dance Theatre in Moscow and St. Petersburg.
The Vietnamese Culture Days in Russia coincided this year with the visit of Prime Minister Nguyễn Xuân Phúc to Russia. — VNS