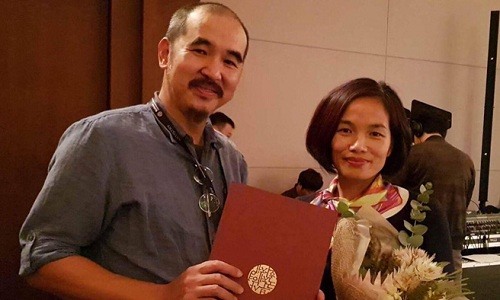 Director Bùi Thạc Chuyên (left) and producer Trần Thị Bích Ngọc receive the prize in the Asian Project Market in the framework of Busan Film Festival in October 2017. — Photo netnews.vn
Viet Nam News
HÀ NỘI — Popular film director Bùi Thạc Chuyên and producer Trần Thị Bích Ngọc will introduce one of their movie projects, calling for partners at the upcoming Cannes Film Festival.
The film titled Tàn Tro Rực Rỡ (Glorious Ashes) has been adapted from two short stories, namely Củi Mục Trôi Về (Floating Rotten Wood) and Tro Tàn Rực Rỡ (Glorious Ashes), by writer Nguyễn Ngọc Tư. The film features the fates of three women in a poor rural area and the means they adopt to keep their men.
The project won a US$15,000 prize in the Asian Project Market for making the film in the framework of Busan Film Festival in October 2017.
The project is among 15 projects selected to be introduced in 'The Atelier' programme in Cannes Film Festival, which will take place between May 10 and May 16.  — VNS