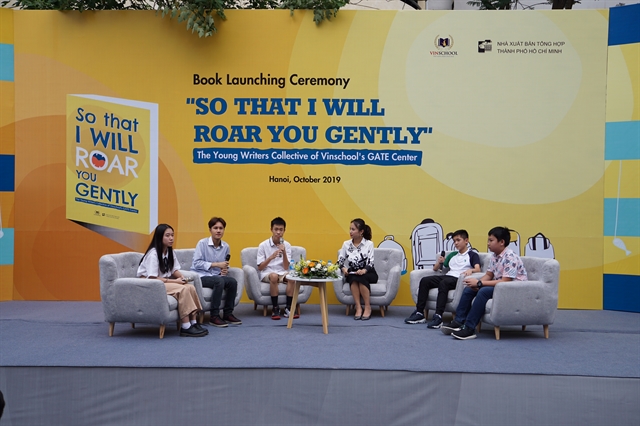 HÀ NỘI — An English book written by 11 young writers from grades 7 to 12 at the Vinschool Education System was released officially to the public and readers nationwide at the Hanoi Book Street on October 12.
Divided into three chapters with 13 short stories, So That I Will Roar You Gently consists of stories revolving around the lives and thoughts of young people at school, from school to class, and family to society.    
The stories also represent a wider community of Vietnamese youngsters, and are not just about school and learning. They also examine family bonds, emotions and feelings at times of separation, the writers' aspirations for change, and internal conflicts or doubts about the future. Students also showed their talents with impressive illustrations in the book.
The book also tells of children's astonishment on their journey of awareness, and the anxiety of psychological changes at school age. Colors, Where All the Wind Blows, Someone in the Crowd, Teaching Them a Lesson and Far from Home are the whispers of children, expressing their opinions as well as their need for understanding and sharing from adults.
"Thanks to the book, I was able to realise my potential, and I hope that every message in my stories will be well-received by readers," said Đức Toàn, the author of five stories in the book.
The book is the result of a project at Vinschool's Gifted and Talented Education (GATE) Centre that aimed to give students the opportunity to speak their minds and to arouse their creative thinking.
The first publishing run has 2,000 copies on sale for VNĐ150,000 (US$6.5). Money from the sale of the books will be used for charity purposes in efforts to help poor students and disadvantaged children in the country, according to a GATE Centre representative. — VNS