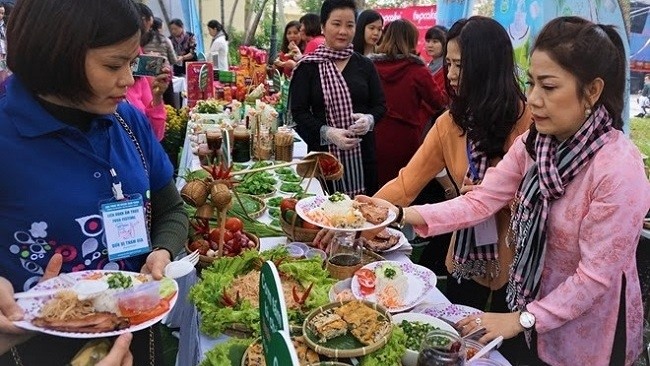 A variety of dishes will be available for visitors to the food festival on Sunday. — Photo nhandan.com.vn
Viet Nam News
HÀ NỘI — Vietnamese and international cuisines and cultural activities will be on display this Sunday, December 9 at a food festival held by the Service Department for Diplomatic Corps under the Ministry of Foreign Affairs.
The annual event will take place at the Vạn Phúc Diplomatic Compound at 298 Kim Mã Street, Hà Nội following the successes of previous editions held since 2014.
The festival will have more than 100 booths of embassies in Việt Nam, foreign cultural centres and agencies of the Foreign Ministry showcasing traditional and international dishes.
It will also attract the participation of enterprises in food production and the service sector, which will take advantage of the event to promote their trademark products to domestic and foreign customers.
Guests include ambassadors, representatives of foreign cultural organisations, press and media and local authorities' representatives nationwide.
This year's festival is sponsored by Ambassador Nguyễn Nguyệt Nga.
Nga said the festival would offer an opportunity for countries, territories and international organisations to promote cultural exchange and increase their understanding through cuisine.
At the same time, Nga said the event would create opportunities for people to express solidarity with those who live in difficult circumstances.
This year's event is expected to welcome thousands of visitors from across the country.
Culinary and cultural activities will include a series of typical local dishes – pre-made or prepared on the spot – and dance and singing performances that will include the traditional folk music of Việt Nam and foreign countries.
Visitors will be able to buy handicraft products and souvenirs from craft villages, or enjoy the music and art performances.
There will also be a wide variety of charitable events raising money for the needy and disadvantaged, for which donations have been earmarked to support underprivileged people including orphans and people with disabilities.
Last year, the festival helped promote donations worth nearly VNĐ2 billion (US$86,000) to support orphans and poor women, especially those in remote areas in the country.
In the past, the festival has also helped support the construction of Bình Thuận Kindergarten in the northern mountainous Yên Bái Province's Bình Thuận Commune and helped fund a bridge in southern Long An Province.
About 10 scholarships have also been gifted to poor students in the southern Bà Rịa – Vũng Tàu Province from donations at the festival.
Organisers also paid charity visits to northern provinces to support ethnic minority students and disabled children in boarding schools and high schools in Đồng Văn District, the northern provinces of Hà Giang, Vĩnh Phúc and Nam Định.
The Food Festival has been hosted by the Ministry of Foreign Affairs since 2014.
This informal diplomatic activity is a prominent cultural exchange event between units in the Ministry of Foreign Affairs with foreign embassies, international organisations in Việt Nam, local Foreign Affairs Departments and a number of enterprises.
In the event's five years, participation has increased from 60 booths in the first year to more than 100 booths this year. — VNS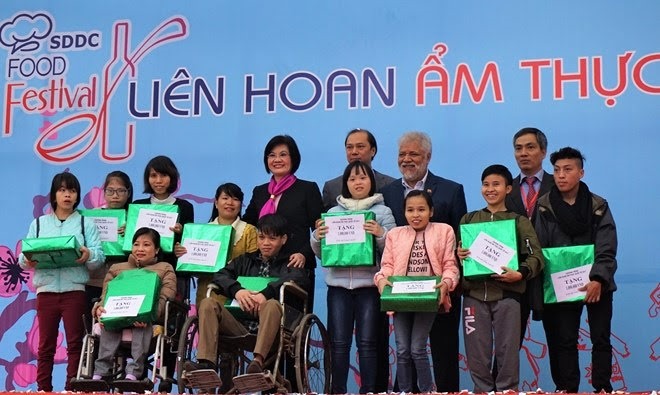 Last year, the festival helped raise nearly VNĐ2 billion to support orphans and poor women. — Photo nhandan.com.vn