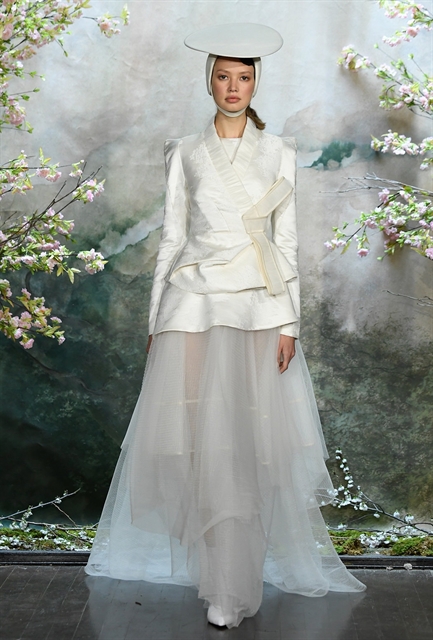 HCM CITY — The Vietnamese bridal brand Phuong My Bridal has been nominated for the Best Emerging Bridal Fashion Brand at the Bridelux Industry Awards 2019 in England.
Founded by the HCM City-based designer Trần Phương My, who graduated from the Academy of Art University in San Francisco, the brand had its first appearance at the New York Fashion Week Bridal in April. Right after its debut, the Phuong My Bridal collection received rave reviews from The New York Times and several other publications in the US.     
Alongside the Best Emerging Bridal Fashion Brand, the Bridelux Industry Awards also honours the best in several other categories, including Best Venue, Best Wedding Planner, Best Photographer/Filmmaker, Best Cakemaker, Best Stationer, Best Florist/Wedding Designer, Best Bridal Beauty Brand, and Best Honeymoon Provider. Phuong My Bridal is the only Vietnamese brand that has been selected.
All the nominations have been chosen by the members of The Bridelux Awards Nomination Committee consisting of Grace Ormonde, Editor-in-Chief of Grace Ormonde Wedding Style – a luxury wedding planning publication; George Hammer – a British beauty and hospitality entrepreneur; Caroline Neville – President of Cosmetic Executive Women; award-winning editor, journalist and novelist Jade Beer.
The nomination committee also includes Publishing Director of Condé Nast Brides UK, Simon Leadsford, and Bridelux CEO, James Lord.
Winners of the Bridelux Industry Awards 2019 will be announced on November 1 at the Symposium Gala dinner at the Savoy, London. — VNS