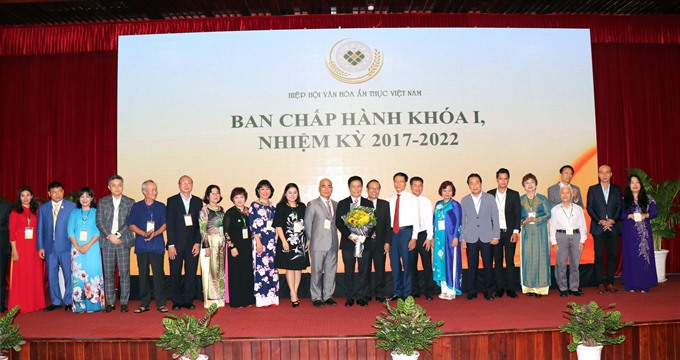 All together now: Members of the executive committee of the Vietnam Cuisine Culture Association. — VNA/VNS Photo Xuân Khu
Viet Nam News
HCM CITY – The Vietnam Cuisine Culture Association (VCCA) made its debut at a ceremony in Hồ Chí Minh City on September 14, announcing its vision, strategy and operational plan for the 2018-2020 period.
VCCA President Nguyễn Quốc Kỳ said that the new association aims to maintain and honour the value of cuisine in Việt Nam, developing a strong culture and educating Vietnamese youngsters on Vietnamese gastronomy.
The association hopes to promote Vietnamese cuisine across the world, making it a positive factor that can contribute to the country's economic development, he said.
On June 12, 2017, the Ministry of Home Affairs issued a decision on the formation of the VCCA. The association's first congress was held on October 11, 2017, electing a 35-member executive committee and standing board for the 2017-2022 tenure and adapting its charter. Nguyễn Quốc Kỳ, general director of Vietravel, became the first president of the association.
On July 5, 2018, the Ministry of Home Affairs approved the association's charter. So far, the association has 300 members from various localities nationwide, working in areas including education, training, business, tourism and food processing.
In the 2018-2020 period, the association will focus on collecting and researching the traditional and modern forms of Vietnamese cuisine; coordinating with other agencies to define criteria for Vietnamese gastronomy development and introducing Vietnamese cuisine to the world.
It will also organise festivals to honour and maintain the popularity of Vietnamese foods, along with training courses on traditional cuisine, while building a Vietnamese gastronomy museum and connecting individuals and organisations engaged in gastronomic culture to cooperate in maintaining this aspect of national cultural identity.
The association signed a cooperation agreement with the Departments of Tourism of Hồ Chí Minh City and central ThừaThiên-HuếProvince on developing Việt Nam's gastronomic culture. — VNS