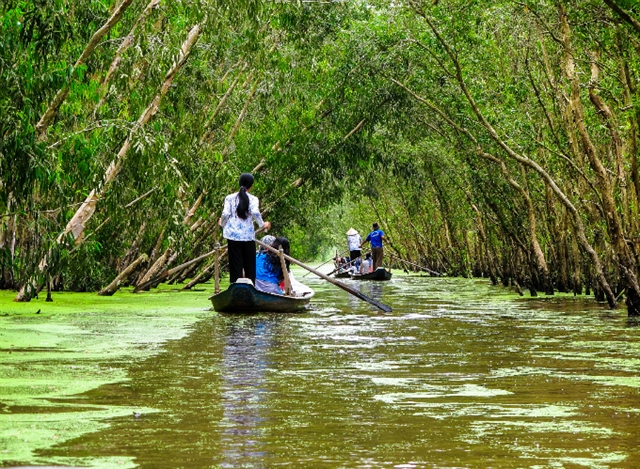 HCM CITY – Cajuput forests, lakes, pagodas and palm trees are the alluring features in the Mekong Delta province of An Giang.
Trà Sư cajuput forest is one of the must visit places in An Giang with its diverse and rich variety of flora and fauna. The forest is located in Tịnh Biên District in the southern province, 10 kilometres from the Cambodian border.
An Giang has increased investment in the Trà Sư tourist complex. The entrance fee is VNĐ100,000 (US$4.3) per person, and canoe and long-tail boat tours inside cost an additional VNĐ50,000 (US$2.2).
Dubbed Heaven Gate and Heavenly Gate of Time by backpackers, this highly Instagrammable gate of the Koh Kas Pagoda is in Châu Lăng Commune, Tri Tôn District.
Ta Pa Lake is a "fairytale-like destination" in the Mekong Delta. The lake is like a giant emerald mirror reflecting its pastoral surroundings.
A one-day trip to An Giang costs VNĐ500,000 ($22). A bus ticket costs around VNĐ155,000. Since the tourist attractions are 20-30 minutes away from each other, it is a good idea to list them and create an itinerary first. VNS