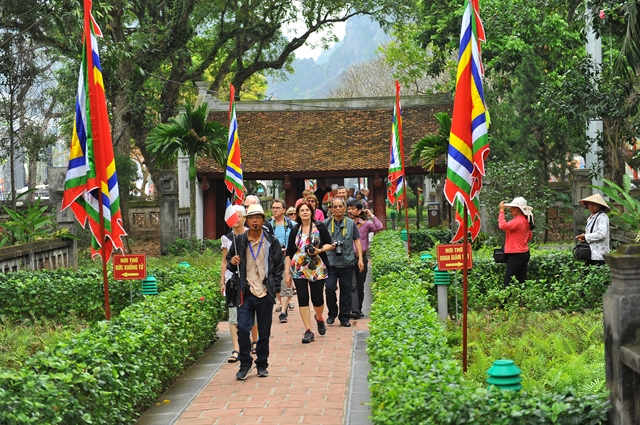 HCM CITY— The tourism sector should focus on developing human resources, infrastructure and new strategies to become a key contributor to the economy, Prime Minister Nguyễn Xuân Phúc said at the Việt Nam Tourism Forum on Human Resources held yesterday in HCM City.
Local authorities and agencies should also develop community-based tourism and support tour guides who have a deep understanding of local culture and life, he said.
"I believe that with a population of 100 million, the country's human resources do not lack quantity or quality," he said, adding that it was important to develop their "hidden capacity" and provide an environment for development.
"Each enterprise should have policies suited to their employees' contributions and capacities," he said.
"Tourism staff are the key element in reaching the high potential of the sector, which is expected to become a key economic industry by 2020," he said, adding that traffic infrastructure and e-government are also very important.
He noted that the Ministry of Culture, Sports and Tourism should create a long-term development strategy. "It should also co-operate with other ministries, including the Ministry of Education and Training on a training strategy to ensure quality and quantity," he added.    
According to Nguyễn Thành Phong, chairman of HCM City People's Committee, the city employs 140,000 people directly working in the tourism sector, including 15 per cent with bachelor's degrees and more than 50 per cent with training at the college and intermediate levels.
The city, which has 5,400 tour guides, has 63 educational establishments training more than 3,000 people in tourism.
However, the city's tourism sector faces challenges, including a shortage of high quality human resources and tour guides who can communicate in German, Korean, Thai or others. This limits the number of tourists coming to the country.
Dr Mai Hồng Quỳ, rector of Hoa Sen University, said that employers with bachelor degrees or above in the tourism sector are viewed as high-quality human resources, but, that following global trends, employers now must meet international standards with degrees from educational establishments that have international accreditation or assessment.
"They have to have interdisciplinary knowledge, foreign language skills, and awareness of sustainable tourism development," she said.
Moreover, they should assume responsibility for helping communities become a creative force for new tourism values, she added.
"In reality, many localities have unplanned tourism models which have had a negative impact on the tourism sector."
She said the Government should allocate more funds to train local authorities in tourism development and create tax and investment incentives to encourage linkages between enterprises in the tourism sector and educational establishments.
Nguyễn Quốc Kỳ, general director of Vietravel, said the company received many applications during recruitment periods but found it difficult to hire candidates with adequate capacity for the jobs.
The company has to retrain employees for at least six months. At five-star hotels, foreigners are hired to work in the top positions, according to  Kỳ.
Bùi Tá Hoàng Vũ, director of the city's Department of Tourism, said the tourism sector would become a key economic industry, with professionalism and a developed technical infrastructure system by 2020.
By next year, the tourism industry's growth is expected to reach 20 per cent to 25 per cent, leading to a demand for more tourism staff, including more staff for cruises.   
This year Việt Nam's tourism expects to welcome more than 18 million foreign tourists and 85 million domestic visitors, leading to total turnover of more than VNĐ700 trillion (US$30 billion).
The tourism industry last year reached the target of 15.5 million tourists, with total turnover of VNĐ620 trillion.
The tourism forum was held by Hoa Sen University in co-operation with the city's Department of Tourism.
At the forum, nine universities signed MOUs to train human resources for the tourism sector, while Hoa Sen University signed agreements with tourism enterprises. VNS