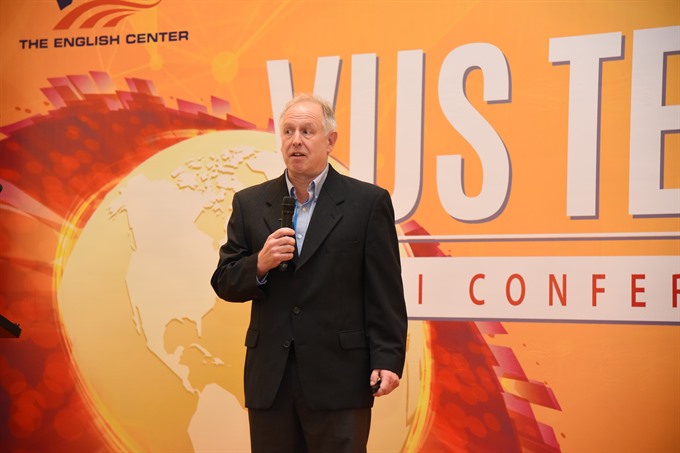 Gordon Lewis from the Oxford University Press speaks at the conference. — VNS Photo Thanh Tùng
Viet Nam News
HÀ NỘI — Experts and speakers from Oxford University Press, Cambridge University, MacMillan Education and National Geographic Learning outlined new ways of teaching English using technology during a conference held on Friday in Hà Nội.
The Việt Nam–USA Society hosts the Teachers of English to Speakers of Other Languages (TESOL) conference annually. This year, the theme focused on Teaching with Technology: Creativity and Innovation.
It gathered 1,000 participants interested in learning and teaching English in Việt Nam.
This awakens teachers to the changes in English language teaching and learning so that they will be able to successfully cope with this fast-changing globalised world, where local learners grow up surrounded by global developing technology, internet access, and a myriad of digital devices infiltrating into all aspects of their daily life, according to Steven Happel from the Việt Nam–USA Society.
The experts discussed smartphone use in the classroom, maximising the potential of technology in language teaching, creative use of internet materials and trends in teenage classrooms.
Technology has always been a part of education, said Gordon Lewis from the Oxford University Press.
"Look at concrete examples of how technologies can enhance our strength and help us manage an ever growing stream of data and turn this into the knowledge we need to make critical decisions in the learning process," he said.
The experts encouraged learners and teachers to use social networks such as Facebook, Twitter and Youtube to enhance reaction and develop personal skills. — VNS