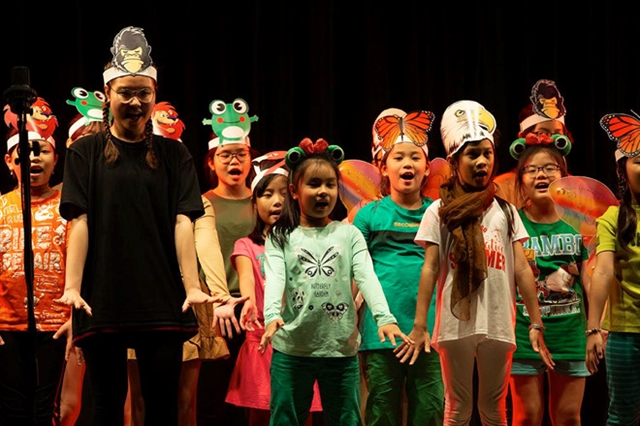 HCM CITY — A concert of Vietnamese music for visually impaired children will open next week in HCM City.     
The event, Vocal Recital 2019, is part of the Music In The Dark project launched by Soul Music & Performing Arts Academy (SMPAA) in District 3.
The project offers music performances and chamber concerts in darkness so the audience can focus on the sounds without any distractions.
The show's theme, Chuyện Anh-Chuyện Tôi-Chuyện Đất Trời (Your Story – My Story – The Story of Earth and Sky), will feature popular songs by talented composers such as Phạm Duy, Trịnh Công Sơn and Trần Tiến who play a role in the country's contemporary music.
Highlights will be works by late songwriter Sơn, known as the "Bob Dylan of Việt Nam" for his anti-war songs during the American war.
Sơn began his career in 1957 with his first song Ướt Mi (Crying Eyes). 
His lasting legacy includes albums of romantic love songs in blues and Slow music, such as Diễm Xưa (Diễm, My Cherished Memory) and Ru Tình (Lullaby To Love), which were released in the 1960s and 70s. These songs are still loved by Vietnamese and foreign fans.
One of his most popular love songs, Diễm Xưa, is popular in Japan, where it was introduced through the voice of Khánh Ly.
Ly performed Diễm Xưa in Osaka in 1970. The song is named Utsukushii Mukashi in Japanese and listed among Japan's top 10 favourite love songs.
Sơn's anti-war albums include Ca Khúc Da Vàng (Song for Yellow Skin), Kinh Việt Nam (Vietnamese Prayer) and Ta Phải Thấy Mặt Trời (We Must See The Sunlight).
Vocal Recital 2019 will be staged by SMPAA teachers and students. The show will include talks by artists. 
The free concert for the blind will begin at 6.30pm on June 27 at Soul Live Project Complex, 216 Pasteur in District 3.
Another show for audiences, aged above 10 years old, will open at 7pm on June 28. Tickets, VNĐ250,000 ($11), are available at dreamspass.vn/VocalRecital2019.
Ticket proceeds will be used to offer a free performance on June 27. — VNS