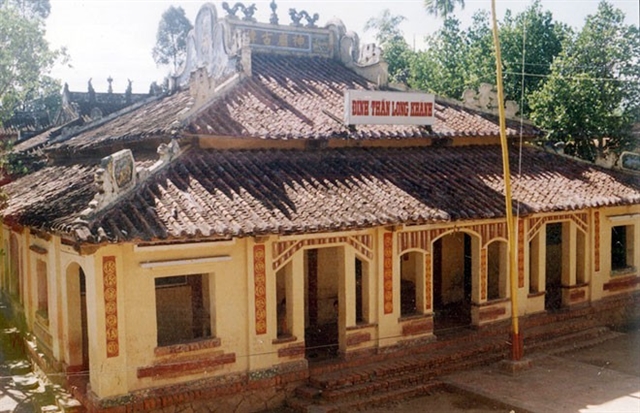 ĐỒNG THÁP — Ancient communal houses in the southern province of Đồng Tháp would be included in new tours in the locality, according to local authorities.
There are nearly 1,000 communal houses in the province, four of which have been named National Relic Sites: Long Khánh Communal House in Hồng Ngự District, Tân Phú Communal House in Châu Thành District, Phú Hựu Communal House in Châu Thành District and Định Yên Communal House in Lấp Vò District.
Nguyễn Ngọc Thương, director of Đồng Tháp's Culture, Sports and Tourism Department, said most of the communal houses in the southern region imitated the architecture of those in the north, which were built in the 16th century.
Communal houses host various community activities and are places for cultural exchanges between ethnic groups.
Communal houses also served as culture and education centres for locals, he said.
Thương said the authorities had been looking at developing communal houses in modern times.
A trial tour will bring tourists to four typical communal houses including Vĩnh Phước (Sa Đéc City), Định Yên (Lấp Vò District), Vĩnh Thới (Lai Vung District) and the communal house at Thông Bình Intersection (Tân Hồng District) besides existing destinations in the province.
Thương said the province also planned to restore some of the houses to restore traditional customs, ceremonies, antiques and folk arts.
The province has many famous tourist sites such as the Nguyễn Sinh Sắc (father of President Hồ) Relic Site, Tràm Chim (Bird Sanctuary) tourist area, Xẻo Quýt relic area, Gáo Giồng eco-tourism area, Đồng Sen Tháp Mười (Lotus Field) tourist area and Sa Đéc flower village.
Tourists can also visit Chùa Tổ (Ancestor Pagoda) in Cao Lãnh District, Phú Mỹ Islet in Thanh Bình District, Định Yên mat weaving village in Lấp Vò District, Bà Đài boat-building village in Lai Vung District and Long Khánh scarf weaving village in Hồng Ngự District. — VNS