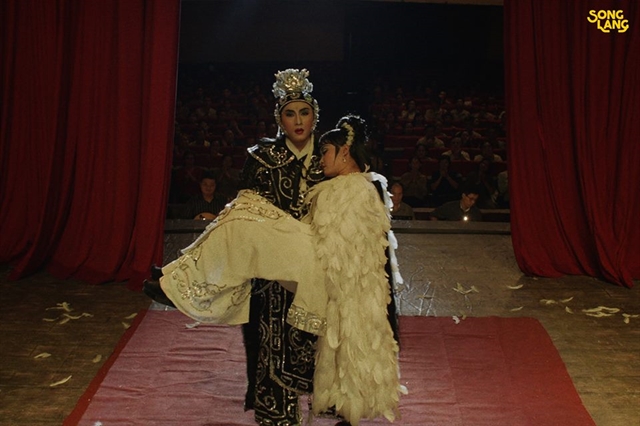 By Thu Anh
HCM CITY — Sixteen feature films have been nominated for the annual 2019 Golden Lotus awards festival organised by the Ministry of Culture, Sports and Tourism in late November.  
Fans expect movie star and producer Ngô Thanh Vân's Song Lang (The Tap Box) and Hai Phượng (Furie) to win at the awards ceremony.
Song Lang highlights the 100-year history and development of cải lương (reformed opera), a genre of traditional theatre in the South. 
Featuring a group of cải lương artists in Sài Gòn in the 1980s, the film focuses on the challenges they face to preserve their art. 
The film also centres on the career of a young performer, Linh Phụng, who makes sacrifices to pursue his dream.  
Producer Vân invited Vietnamese-American director Leon Lê to work on her film. Leon hired pop singer and actor Issac, winner of the Rising Star of Asia's Star Awards at the 21st Busan International Festival in 2016, and young actors Tú Quên and Liên Bỉnh Phát. 
Leon said he and his staff researched many documents and books on cải lương before filming. "My actors spent several days practicing singing and dancing cải lương with experts."
"I wanted my film about cải lương to be as great as the art," said the 42-year-old.
Leon began his career as an actor on Broadway in New York before becoming involved in filming. Song Lang is his first film.   
Before being submitted for a Golden Lotus, Song Lang competed in international film festivals, including the Tokyo International Film Festival 2018 (TIFF) and Sharm El-Sheikh Asian Film Festival (SAFF) in Egypt.
At TIFF, the film was screened at the Opening International Premiere in the Asian Future Category. Actor Phát won the Tokyo Gemstone Award in Best Newcomer category. 
The film won the Samir Farid Prize for best feature film while director Leon won Best Director award at the SAFF.
Hai Phượng, an action film, is a story about a mother's 14-hour journey in pursuit of her daughter's kidnappers. 
"My film was made with the general public in mind, rather than juried experts," said the film's producer Vân, who plays a leading role.
The film was a hit with Vietnamese audiences last year. It earned around VNĐ200 billion (US$8.6 million) in ticket sales after just a month of its release.
Hai Phượng was selected to compete in the Best International Feature Film category for an Oscar in 2020, announced by the Ministry's Department of Cinema in September.
"Vân's film is quality work. The film's visual and sound effects will make it a strong contender for the awards," said theatre critic Thanh Hiệp of Người Lao Động newspaper.     
Other outstanding nominees for Golden Lotus awards include Nơi Ta Không Thuộc Về (Nameless Heroes) and Truyền Thuyết Về Quán Tiên (The Legend of Quán Tiên), both produced by State-owned film studios.
Critics are hoping for a win for Truyền Thuyết Về Quán Tiên, a production about Vietnamese soldiers fighting in the Trường Sơn Mountain Range during the American war in South Việt Nam. 
The film is based on a short story of the same name by late author Xuân Thiều, winner of the Hồ Chí Minh Award 2016 for best works in film, theatre, literature and arts. The award is presented annually by the Government.  
The film features three young female volunteers and their efforts during the war to liberate the southern region and reunify the country.
Patriotism, bravery, honour, and love are also highlighted.
According to the film's producer, Nguyễn Thị Hồng Ngát, who is also owner of HongNgat Film, the film is a "gift" to Vietnamese soldiers who devoted their life to the country's independence.
In an interview with the media, the film's young director Đinh Tuấn Vũ of Hà Nội said: "I wanted to help younger generations learn more about the country's history through my film. 
"My staff travelled to many places, meeting and interviewing dozens of soldiers, historians and war researchers before filming," the 30-year-old said.
The 12 remaining films for the awards all revolve around the themes of love and social conflict. 
The 2019 Golden Kite ceremony will present awards in the categories of movies, short films, cartoons, scientific films and documentaries.
The organiser received 74 entries for the competition's awards, including best film, best director, best actor and actress.  
A week of free screenings began yesterday at the National Film Screening Centre in Hà Nội's Ba Đình District and at DCINE Bến Thành in HCM City's District 1.
The awards ceremony will take place in Vũng Tàu City in Bà Rịa-Vũng Tàu Province on November 27. — VNS