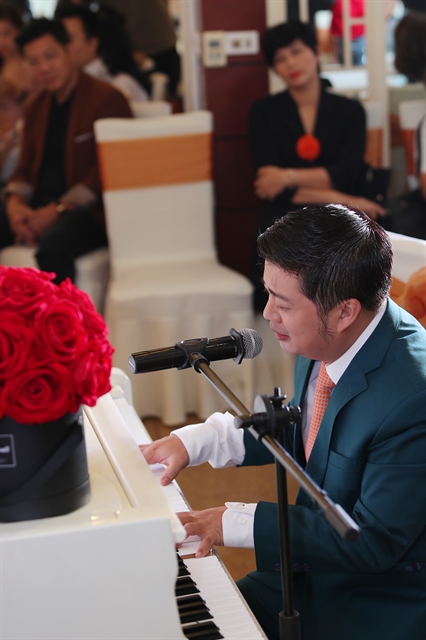 HÀ NỘI — Singer Đào Nguyên Vũ is marking his 25-year career with a CD and DVD of music entitled Hoài Niệm Trong Lòng Phố (Memoirs of the City).
The album comprises 11 romantic songs about Hà Nội, composed by famous musicians such as Phú Quang, Trịnh Công Sơn and Trần Tiến.
Though Vũ has spent 25 years teaching singing at the Việt Nam National Academy of Music (VNAM), the album is his debut.
Vũ said he was busy with teaching, performing and helping his students release their albums, ignoring his own work.
"The songs are gentle in rhythm, transferring a truthful love for Hà Nội. It's my emotion, pride and gratitude for the city where I was born," said Vũ.
Vũ was born in 1979 in Hà Nội. Vũ started studying music at the age of 15. He competed at the Sao Mai National Singing Contest in 2001 and was one among 10 finalists. Though he didn't win a prize at the contest, he had a chance to meet and then marry singer Phương Nga, winner of the contest that year.
He has worked as an artist at the Việt Nam Opera and Ballet Theatre (VNOB) for 10 years. He was known thanks to the role of Monostatos in The Magic Flute by W A Mozart.
Attending the launching ceremony on Sunday in Hà Nội, Vũ's teacher, People's Artist Trung Kiên said he almost cried seeing how Vũ has grown up.
"I knew Vũ and Nga when they are students at the VNAM, now they have grown up and become teachers of many famous singers," said Kiên.
"They are a beautiful couple of Vietnamese music, I wish they would deliver more and more beautiful songs for audiences."
"I have listened to all songs on the album. Though they are very popular, Vũ remixed all of them to bring different emotions and experiences for listeners," he said. VNS