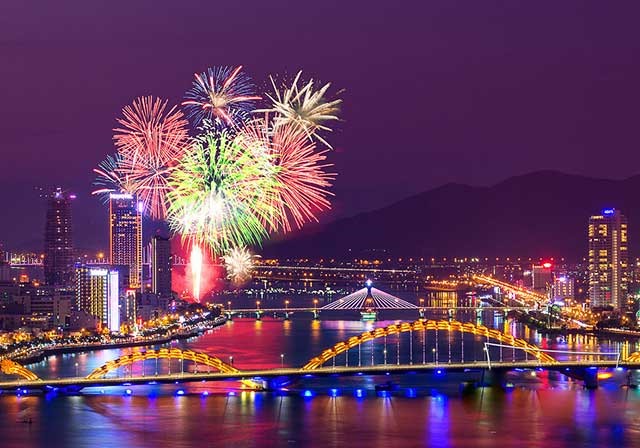 Fireworks over the Hàn River in Đà Nẵng in 2015 VNS file Photo.
Viet Nam News
ĐÀ NẴNG — Seven international teams, including three coming for the first time, and the host will compete in the 2018 Đà Nẵng International Fireworks Festival (DIFF) starting at the end of this month.
In addition to France, the US, Italy and Portugal, the event will see debutants Surex Firma Rodzinna from Poland, Vulcan Display Fireworks from Hong Kong, and GFF from Sweden.
The makeshift stages can accommodate more spectators than last year. Each of them will have a large LED screen for the spectators to see the fireworks displays.
Side events like a street parade and certain new activities are expected to bring more excitement and colour to the DIFF this year.
The ninth annual event will have the theme "The Legends of Bridges" and feature stories about well-known bridges.
Ticket will range from VNĐ50,000 (US$2.2) per night for children less than a metre tall to VNĐ2 million (about US$88) for each of the opening and final nights, the organisers said.
The contest will take place on the banks of the Han River from April 29 to June 30. The main stages will be on Trần Hưng Đạo Street and in the yard of Olalani Riverside Towers.
Việt Nam and Poland will perform on April 29, France and the US on May 26, Italy and Hong Kong on June 2, and Sweden and Portugal on June 9.
The finals and awards ceremony are slated for June 30. — VNS