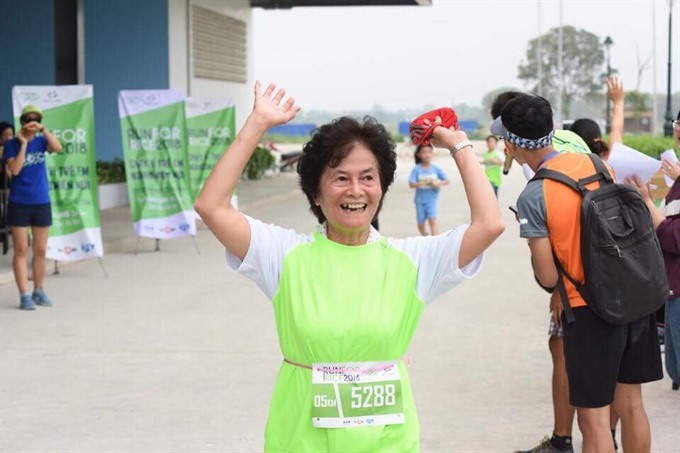 Age is just a number: Ms. Nguyễn Thị Vấn celebrates her 75th year by challenging herself in the 5-km run on Sunday. — Courtesy Photo of Organisers
Viet Nam News
HÀ NỘI — More than 500 people joined Run for Rice on Sunday (April 22) morning in a 5km popular run to raise funding for needy children living in the northern mountainous provinces.
Many families run together, parents with children and some elderly, whose spirit does not age along with the time of their life.
Nguyễn Thị Vấn, 74, a retired lecturer at Hà Nội's Univeristy of Technology, smiled at the Finish line, "Hurray, I made it! I ran to support Rice Scholarship, which gives rice and school supplies to children living in the mountaíns."
Tickets for the run costed VNĐ200,000, T-shirt's also costed VNĐ200,000, and to top it off runners could attend a special show in Baaland for VNĐ400,000. Each combo ticket adds VNĐ22,000 to the Rice fund.
Rice Scholarship, founded in 2005, has supported more than 5,000 school children from the moutnaínous northern regions, and has donated study rooms and toilets to schools located in remote areas. — VNS
More info for donors:
Facebook: https://www.facebook.com/RiceScholarship
Website: http://ricescholarship.org
Email: hocbonggao@ricescholarship.org