HÀ NỘI — The Thăng Long – Hà Nội Heritage Conservation Centre held the ancient Thăng Long royal rite to celebrate the Lunar New Year at the Imperial Citadel of Thăng Long in Hà Nội yesterday.
For the first time, The Thăng Long – Hà Nội Heritage Conservation Centre worked with several organisations to practise the ritual of Tiến Xuân ngưu (The ceremony of offering an earthen buffalo in spring) of the Lê Trung Hưng Dynasty (16th to 18th centuries), a unique rite in the old court, taking place on the first day of spring.
The ritual featured a clay buffalo being offered to Heaven to ask to expel the cold winter and welcome a warm spring to the nation. The coming Lunar Year is the Year of The Buffalo.
Also yesterday, the centre held the Ông Công, Ông Táo (Land Genie and Kitchen Gods) ritual as well as the ceremony to set up a Cây Nêu (New Year's tree). 
People across the nation held their own ceremonies to send off the Land Genie and the Kitchen Gods of the household on their yearly visit to Heaven.
The Kitchen Gods, the guardian spirits of the kitchen, are believed to comprise two male gods and one female, who bless the household and maintain the kitchen fire, making every member of the family happy and well-off.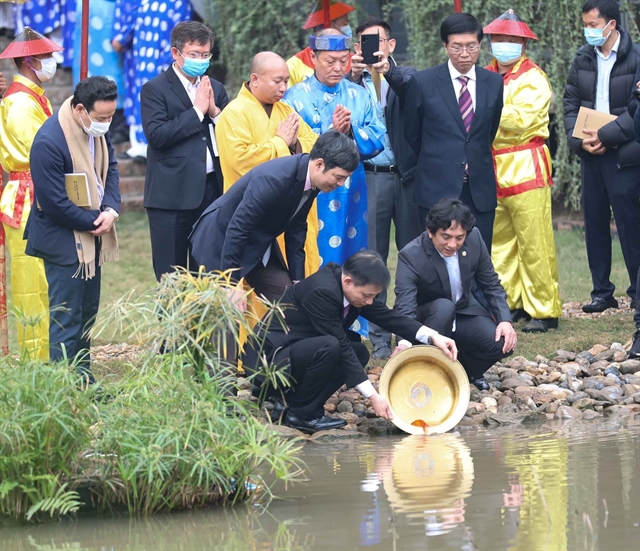 The ritual involves releasing a carp into a river or lake and the fish are often bought on the side of streets in plastic bags. In the past, many people threw the fish still in the plastic bag into the water, causing pollution.
In recent years, awareness-raising efforts have encouraged more and more people to dispose of the plastic waste properly instead of throwing it into the water. — VNS