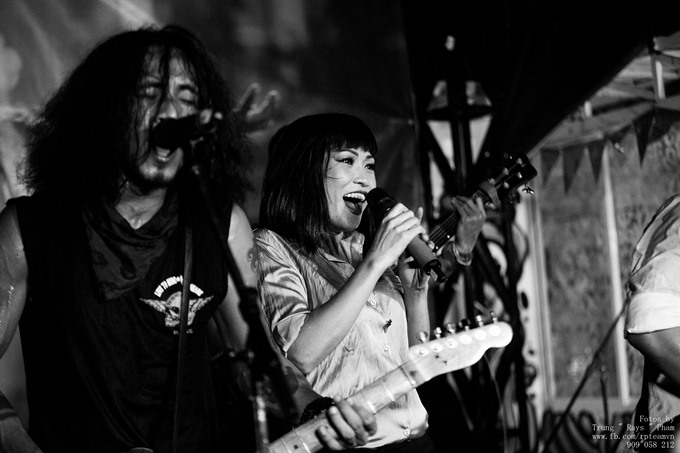 Let's rock: Rockers PAK and Phương Thanh perform at the Rock'N'Share 2016.
Viet Nam News
HCM CITY — Rock'N'Share 2018 will be a chance for rock fans to enjoy performances of established rock bands and rockers in HCM City on May 13.
The liveshow will features Microwave band, singer Phương Thanh, PAK, Bụi Gió band, Parasite band and Hạc San. They will perform their popular songs which have made contribution to Vietnamese rock music scene in the late 1990s to the early 2000 year. 
Four-member Microwave will rock audiences with performances of their songs Lối Thoát (The Exit), Thời Gian (Time) and Tìm Lại (Found It Back). Founded in 2001, Microwave released their debut nu metal album Lối Thoát, and in 2005 featuring the song Tìm Lại which then became a hit of the year and rocketed the band to fame.
The band is also a regular at the annual Rock Storm festival – the biggest rock event in Việt Nam. Their second album Thời Gian, which features modern rock songs. The album won the Golden Album award at a monthly competition hosted by HCM City Television.
Established Phương Thanh will perform the song Trống Vắng (Emptiness). The song was one of hits at the year 1990s and it listed in Làn Sóng Xanh (Blue Wave) many times. Blue Wave is a radio programme launched by the Voice of HCM City (VOH) radio station to promote Vietnamese music. She also performed the song at the celebration of the 20th anniversary of Blue Wave last year.
The four-hour show will begin at 6pm at open 126 Stage at Cách Mạng Tháng Tám Road, District 3 in HCM City. The show is held to celebrate the fifth year of Psychotramps13, a non-government organisation established in 2013.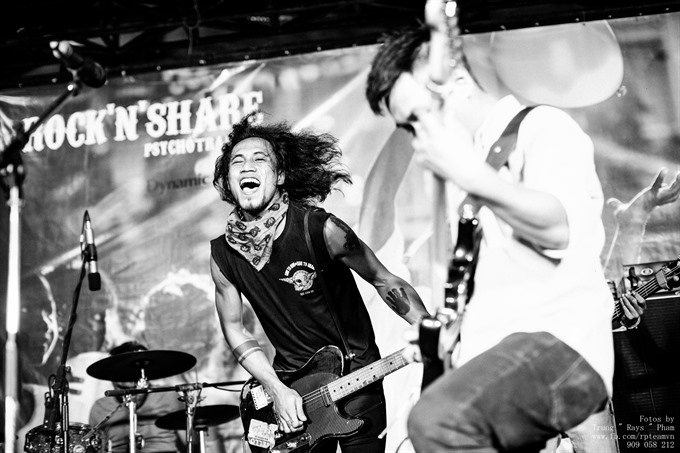 Sing it loud: PAK (left) performs at the Rock'N'Share 2016. — Photo organisation board
"Psychotramps 13 inspires late rocker Trần Lập's saying that don't live like a stone," said Trần Trung Lĩnh, the organisation founder. "We want to convey a message that live means love and share. Live doesn't mean for ourselves but it helps community. I hope the show this year will continue to attract thousands of rock fans who love charity work like us".
Psychotramps13 includes people who loves wandering with their bikes, helping out people as much as possible, as long as they can ride and can share. At the begining the number is only 13 but now it is about 100 members.
From a tour HCM City to northern moutainous province of Sơn La, passed by the eyes of the kids along the road, where life is hard and tough. Those little eyes obsessed Lĩnh that he needs to do something.
Then they ride, give a hand and share. No matter how far they can ride and how much they can share, the kids is their reason to try their best. They have raised fund from designed Tshirts, Notebooks and music events.
Rock'N'Share show have been held in 2015 and in 2016 in HCM City. Psychotramps 13 has visited to central and southern provinces of Quảng Nam and Ninh Thuận and given hundreds of gifts including books, clothes and food to hundreds of poor children.
Psychotramps 13 will donate all the proceeds to a fund for the poor children. Ticket is sold at VNĐ150,000 (US$6.5), please calls hotline 0976792922 for further information. — VNS