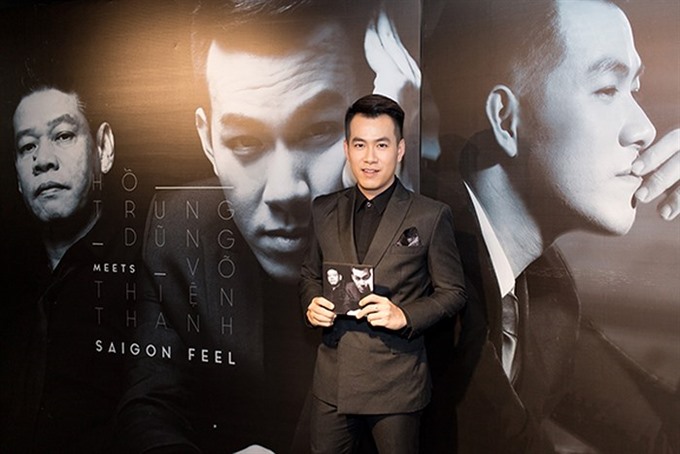 Singer Hồ Trung Dũng and his jazz album released last month is on sale at the 10-day Record and CD Festival Day Fair in HCM City, which opened on Thursday. (Photo courtesy of Phương Nam Film)
Viet Nam News
HCM CITY— The Record and CD Festival Day Fair opens on Nov 7 at the Phương Nam Book City-Vạn Hạnh Mall in HCM City.    
Organised by Phương Nam Film in co-operation with its partners, including the Recording Industry Association of Việt Nam (RIAV), the fair aims to encourage local companies to develop their business, find new partners, and promote and market programmes at home and abroad. 
About 30 music and film producers and distributors nationwide will take part in the 10-day event that discourages people from producing or using illegal products.
Major producers taking part in the event include Hồ Chí Minh City Television's Film Studio (TFS), Phương Nam Film, Bến Thành  Audio, Việt Tân Studio, Saigon Vafaco, Thăng Long Studio and Hà Nội Culture Centre.  
Several thousand CDs, DVDs and videos featuring music, films, cartoons and games manufactured and distributed by local and foreign companies are on sale at discounts of 10-50 per cent.
Music albums of live shows of music stars, including Vietnamese-American singers Khánh Hà, Tuấn Ngọc and Khánh Ly, are also offered.   
A stall featuring more than 300 cassettes of famous cải lương ( reformed opera) plays, staged by leading art troupes between 1980s and 1990s, will meet the demand of theatre lovers. 
DVDs featuring prize-winning Vietnamese films, including revolutionary movies produced during the American war from 1954 to 1975, are included.
Productions of Hollywood productions from Warner Bros, 20th Century Fox and Vision are being sold at the event.   
Concerts by popular singers, such as Hồ Trung Dũng, Nguyễn Hải Yến and Bích Phương, will be staged every night as an added attraction.
The event is expected to attract more than 15,000 visitors. It will close on December 16 at 11 Sư Vạn Hạnh Street in District 10.—VNS