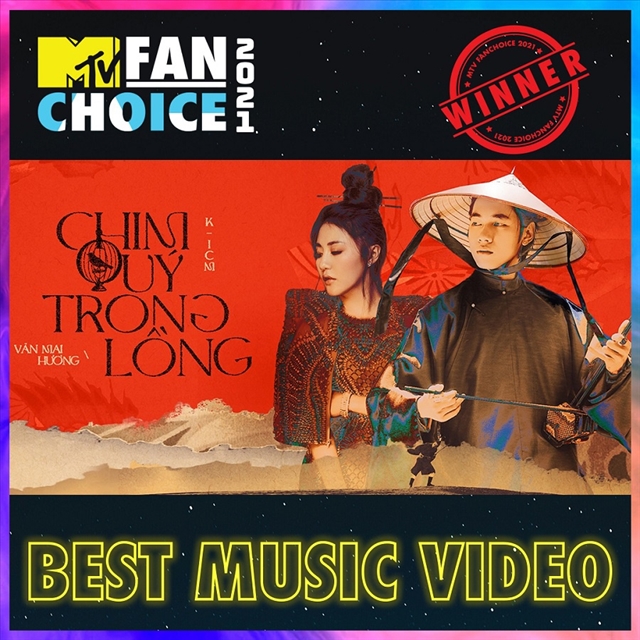 HCM CITY —Young singer and composer K-ICM from HCM City will represent Việt Nam at the MTV Europe Music Awards (MTV EMA) 2021. 
K-ICM's MV, Chim Quý Trong Lồng (Caged Bird), will compete for the title Best Southeast Asia Act at MTV EMA 2021. 
He will be competing with singers from Singapore, Malaysia, Indonesia, Thailand and the Philippines. 
The MTV EMA 2021 awards presentation ceremony is expected to be held in December. 
K-ICM won the title Favourite Artist and Best Music Video at MTV Fan Choice 2021 for his Chim Quý Trong Lồng, released in July 12. 
The MV features the themes of love and freedom. It ranked No 5 on YouTube trending in Việt Nam five days after its release, with 3.6 million views. 
K-ICM composed and wrote the lyrics for Chim Quý Trong Lồng, a song combining pop with Vietnamese folk music. 
He invited female singer Văn Mai Hương, runner up of Vietnam Idol 2010, a Vietnamese version of the American singing competition TV series American Idol, to sing with him in the MV. 
His MV was nominated for the title Best Music Video at the Asian Television Awards (ATA) this year. 
"My efforts have gained the love of my fans," said 22-year-old K-ICM. 
 K-ICM, whose real name is Nguyễn Bảo Khánh, was born in Sóc Trăng Province. He began his career in HCM City in 2017. He became known with his indie music. 
He co-performed with young songwriter and singer Jack of HCM City in hits such as Hồng Nhan (Beauty), Sóng Gió (Upheavals), Bạc Phận (Misfortune) and Việt Nam Tôi (My Việt Nam). 
K-ICM and Jack were honoured by the Mnet Asian Music Awards as Best New Asian Artist Vietnam in 2019. The duo broke up early last year, and both are building solo careers.
K-ICM's previous MVs, such Ai Mang Cô Đơn (Who Takes Away My Lonely Days) and Cô Độc (Alone), ranked No.10 on trending on YouTube in Việt Nam just days after their release, with several million views. 
He has released two albums and 50 MVs.  He has also won top prizes for Best Young Male Singer and Best Music Video of the Year presented by prestigious organisations, including the Voice of HCM City People. VNS