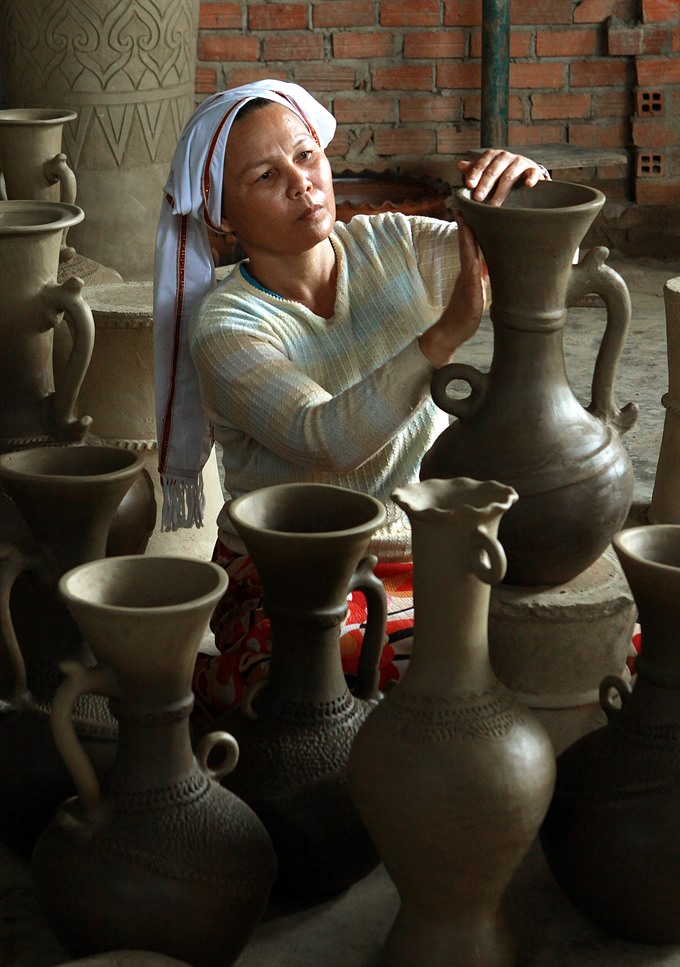 Chăm potters use their skills to create a variety of pottery products. — VNA/VNS Photo Nguyễn Thủy
Viet Nam News
HÀ NỘI — Authorities in the central province of Ninh Thuận are planning to compile a dossier on the Chăm people's pottery heritage in a bid to secure UNESCO recognition.
The proposal of the People's Committee of Ninh Thuận to compile the dossier to gain UNESCO recognition as an intangible cultural heritage in need of urgent safeguarding has been ratified by the Ministry of Culture, Sports and Tourism.
The leader of the ministry said Bình Thuận Province's Department of Culture, Sports and Tourism must collaborate with the branch of Việt Nam National Institute of Culture and Arts Studies in Hồ Chí Minh City to conduct surveys and studies and invite other regions where the Chăm people engage in the traditional craft of pottery to participate in creating the dossier.
One of the most outstanding features of the Chăm people's traditional craft of pottery is the technique of shaping their wares by hand rather than a wheel and using simple tools or shells to decorate them. The products are then dried under the sun from four to six hours before being fired outdoors using straw or wood.
The skillful hands of the Chăm people have created a variety of products which they use for their daily activities and spiritual worship. Some of their products include cylindrical jars where they keep water or rice, reliefs, decorative lamps, and statuettes of Apsara or Siva Gods. Their works showcase the creativity and unique culture of the Chăm people.
The pottery of the Chăm people in Bình Thuận Province and Bàu Trúc Village in the central province of Ninh Thuận have been included in the list of the country's intangible cultural heritage. — VNS