Pianist Phó An My will perform on November 24 at Hà Nội Opera House. The recital entitled Tỉnh (Awake) features works by composer Đặng Tuệ Nguyên. Việt Nam News reporter Nguyễn Thúy Bình interviews My about the upcoming concert.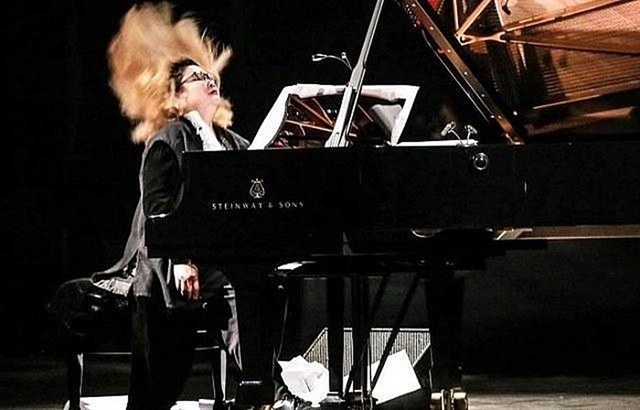 Can you tell us about your upcoming concert in Hà Nội?
I will perform a piano recital entitled Tỉnh by composer Đặng Tuệ Nguyên. It is a journey to find myself and my roots. Each step is taken with the pride and determination to preserve them.
Based on the five basic elements: earth, water, fire, air, and wood which form our universe, and by combining western techniques with the spirit and sounds of traditional Vietnamese music, Tỉnh paints a beautiful, majestic, generous and kind image of Mother Nature. 
I have performed shows before when I've combine the piano with Vietnamese music genres such as tuồng (traditional opera); hát văn (trance ritual singing) and chèo (popular opera). 
This time I'm inspired by nature and environmental issues. I discussed the idea with Nguyên and he composed the work for this concert.
It features late modern and romantic styles. We have worked together for about 15 years. 
We are like a couple composing and performing together.
How does nature inspire you and why do you want to raise environmental issues?
I have been to many places with beautiful natural landscapes. I wanted to record their beauty with my camera, but then I realised that it might be lost in the lens and not depict what had been embedded in my mind. Music was the only way to express my feelings. 
I've also noticed the rapidly changing environment. I am no pioneer by using music to protect the environment. Many other artists talk about environmental protection, and they have their own ways of going about it. 
I express my thoughts and what I feel about the environment to inspire people to protect what we still have. 
Human's destructive actions of exhausting natural resources, destroying forests, discharging toxins and polluting the water have brought great suffering to the Earth – our common home.
Floods, droughts, earthquakes, forest fires, storms and natural disasters are taking place more frequently and violently, as if Mother Nature is warning us about our greed and apathy towards the environment. 
What is different about your performance this time?
In previous concerts I've performed with other musicians such as percussionist Trần Xuân Hòa; hát văn singer Thanh Hoài and tuồng artist Hương Thơm.
This time, I will perform solo. It's a challenge for me. I have sleepless nights thinking about how to charm the audience in a one-hour show. I am a little bit of nervous because it's only me and my piano on stage. 
My recitals combine traditional music and piano. I want to introduce traditional Vietnamese music to international audiences. 
It is a good sign that there are many musicians researching folk music to compose their works. This is really good. I see many Vietnamese people don't know much about folk music. 
How do you feel when you perform solo on stage?
Each career has its own characteristics. When I am performing on stage I have to place myself in different roles. 
I must be sad or happy for certain pieces. After the concert I am often unable to focus on anything because I am exhausted. 
Do you cater to audiences' tastes?
I know not many people are interested in the piano. My style combines chamber and folk music so it is much more difficult to attract audiences. 
In Western countries that are cradles of classical music, the audience being interested in classical music nowadays is just only about 30-40 per cent of the venues.
I think I am lucky because my concerts here are full. VNS