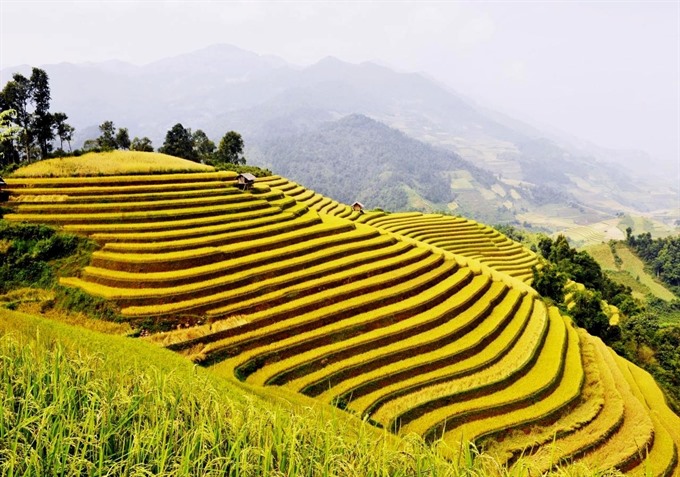 A breathtaking view of the Hoàng Su Phì terrace fields. — Photo courtesy of Hà Giang Tourism Department
Viet Nam News
HÀ NỘI — A photo contest featuring the natural and cultural beauty of Hoàng Su Phì District kicked off on August 10 with the aim of promoting the tourism potential of the region.
Located in the northern mountainous province of Hà Giang, Hoàng Su Phì District is known for picturesque terraced fields which are recognised as a national heritage, one of the most beautiful landscapes in the whole country.
It is a popular destination for both domestic and foreign tourists who come to enjoy the breathtaking views of the terrace fields and the unique culture of the local people.
The contest is open for all professional and amateur photographers from now to September 10.
They can send entries to the organiser at Hoàng Su Phì District's Culture and Information Office or via email vhtt.hsp@hagiang.gov.vn.
An exhibition and award ceremony will take place on September 14 during Tourism and Culture Week entitled 'To the Land of Terrace Fields', held in Hoàng Su Phì District.
Lù Văn Chung, vice chairman of the Hoàng Su Phì District's People's Committee, said the photos should cover the beautiful landscape, historical sites, traditional culture of ethnic groups, festivals and ordinary life of the local people.
"The contest honours photographic creations of the authors, as well as provides a huge source of photos to promote local tourism and lure more tourists to discover Hoàng Su Phì District," he said.
The picturesque terraced fields in Hoàng Su Phì are a worthy reward for tourists who overcome the long road full of obstacles. In each season, Hoàng Su Phì attracts tourists with a different landscape. In May (beginning of the rainy season), farmers plow and flood terrace fields with their irrigation systems. During this period their fields looks like pieces of curved mirror. As the rice grows, their fields are awash with various shades of green. Then September and October is the most beautiful time for photographers. Rice terrace fields are brightly coloured in harvest season.
The Hoàng Su Phì terraced rice fields cover 760ha in Bản Luốc, Sán Sả Hồ, Bản Phùng, Hồ Thầu, Nậm Ty và Thông Nguyên. — VNS