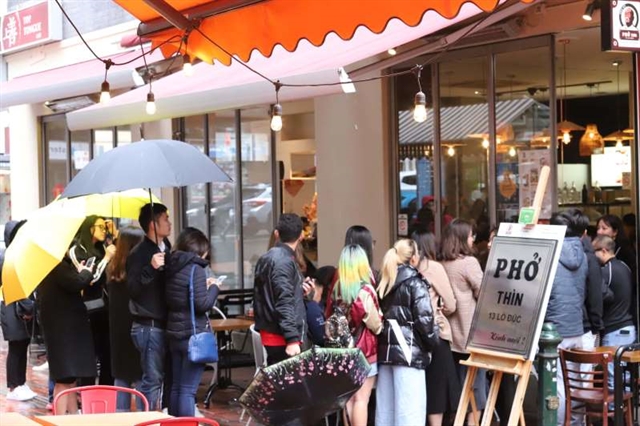 HÀ NỘI — Despite the rain lashing Melbourne over recent days, a long line of customers are seen patiently waiting for their turn to enjoy phở (noodle soup) served at newly-opened Phở Thìn, one of Việt Nam's renowned trademarks for phở, in the city.
"I have been waiting here for nearly an hour," said Trương Việt Anh, a Vietnamese overseas student at Kaplan Business School, while opening his umbrella to shelter himself from the rain.
But the wait was not wasted. After a long time living far from home, it was the first time he had the chance to taste phở of northern Việt Nam abroad which he found as delicious as the dish served in Hà Nội.
Similar to Anh, Nguyễn Hồng An, a Vietnamese student at La Trobe University, has lived down under for nearly one and a half years but she has always missed home and Hà Nội.
She has travelled across Melbourne and tasted various noodle soups, but nowhere had the familiar taste of Phở Thìn Restaurant, she said.
The Phở Thìn in Melbourne is the second overseas franchise of the family-run noodle shop in Hà Nội, which has been serving delicious bowls of the dish for 30 years. The first one opened in Tokyo, Japan in March.
Though the soft launch was on September 5 and its official opening was September 19, the restaurant welcomed over 500 customers per day, serving an average of about 700 bowls of noodle soup.
As revealed by Nguyễn Hoàng Lâm, the shop owner, many customers have returned after their first visit. He also said that the phở served in Melbourne retained its authentic flavour, recipe and presentation served at Phở Thìn in Hà Nội. Particularly, the cooking process will be done manually by Nguyễn Trọng Thìn, the owner of the brand name, he added.
Furthermore, the traditional chili sauce, one of the secrets behind Hà Nội's signature dish, is made on the spot to ensure its freshness and is preservative-free.
According to Nguyễn Trọng Thìn, Thìn noodles served in Australia will be 90 per cent similar to those served in Hà Nội. The other ten per cent would be adjustments to satisfy the international tastes but still retain Vietnamese original flavour.
The culinary artisan said his biggest achievement was introducing Hà Nội's culture and original features of the brand name that he established to the world.
"The first time phở was brought to Tokyo, customers stood in long lines waiting to be served. At the end of the day, I cried due to overwhelming surprise and pride. Not limited in Tokyo and Melbourne or any other cities, any Vietnamese with contributions to the country can feel proud for Vietnamese culture," he said.
Thìn also revealed that he is planning to bring phở to more international markets. At the end of this year, Phở Thìn is expected to appear in Bali, Indonesia before travelling to Portugal, the Czech Republic and Poland. — VNS