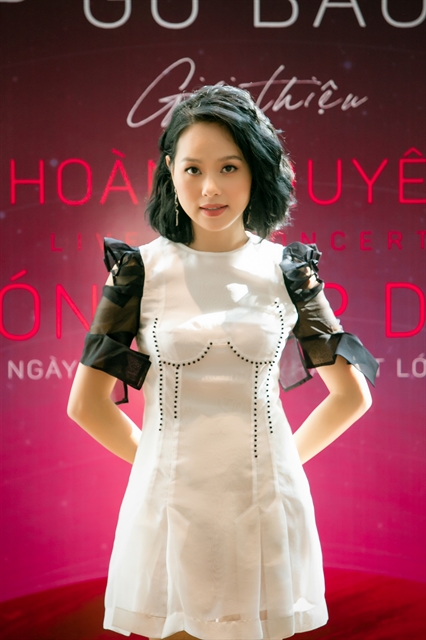 HÀ NỘI Four years after her debut live show, Hoàng Quyên, the Việt Nam Idol 2012 runner up, will hold her second concert on Sunday.
Named after her third CD Sóng Hấp Dẫn (Attractive Wave) which was released in April last year, the concert will feature nine songs from this album. The album is also the first co-operation between the singer and composers Đỗ Bảo and Võ Thiện Thanh.
While her first concert featured ballads by contemporary composer Lê Minh Sơn and some other veterans such as Thanh Tùng, Phạm Duy, Ngô Thụy Miên, and Trịnh Công Sơn, the concert will feature only songs by Bảo and Thanh.
"Bảo and Thanh are not only my 'music partners', who have contributed significantly to 'the birth' of Sóng Hấp Dẫn. They are representatives of their generation of composers. Their songs are very vibrant and present a slice of modern life," Quyên said at a recent press conference.
During Sóng Hấp Dẫn, Quyên will sing her most popular songs by the two composers Bảo and Thanh.
To answer why she had to wait more than a year after the CD launch to have a second concert, the singer said she was patient in measuring how the audience welcomed her music, which was made over the course of two years.
"Luckily, the album was acclaimed by music lovers. It's the biggest motivation for me to decide to have the concert," she said.
The 27-year-old singer said she expected the concert will help her audience remember her, alongside her distinctive voice, but also as a hardworking and high-demanding singer.     
"Actually, my only concern about the concert is its quality, to satisfy all my fans," she said.
The singer doesn't mind performing old songs that people have listened to several times because, through her acoustic and jazz singing style and new remix, "audience will get the feeling like they're meeting old acquaintances," she said.
Three years after participating in Việt Nam Idol in 2012, Quyên released critically acclaimed musical productions, including her first album Về (Come Back) in 2015. The same year, the singer also had her first live show Rét Đầu Mùa (Early Chill).
The concert Sóng Hấp Dẫn will take place at the Hà Nội Opera House at 8pm. VNS