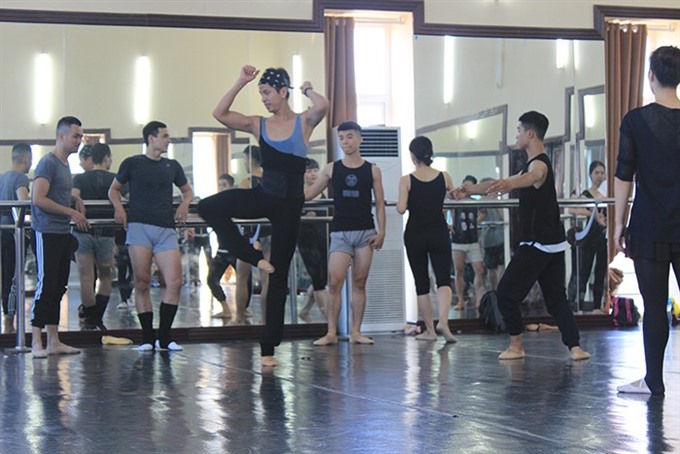 Smooth moves: Choreographer Lê Ngọc Văn (third from left) works with dancers from Việt Nam National Opera & Ballet for the first time. — Photo courtesy of VNOB
Viet Nam News
HÀ NỘI — A night of dances will feature two pieces Bolero and Suite en Blanc by choreographer Lê Ngọc Văn at Hà Nội Opera House on October 17-18.
Ballet dancers from the Việt Nam National Ballet and Opera (VNOB) will open the night with Bolero for the first time. The piece is choreographed by dancer Văn who is currently working at the English National Ballet Theatre.
From beginning to end, Bolero will demonstrate simplicity but power. The audience will see the power of the dancers including VNOB soloist Đàm Hàn Giang and Thu Huệ through their simple but inspirational ballet moves. Through these moves, the dancers will show the mix of different characters, naive but also provocative, thrilling but equally elegant.
Văn made Bolero in 2013 commissioned by the Shanghai Ballet Theatre. 
Văn also created the full version of Suite en Blanc from which a small excerpt was performed by the English National Ballet in 2007. With solo and group performances, the dancers will create gentle, elegant ballet moves against a white background, with the melody composed by Leo Delibes.
The romantic ballet shows the beauty, perfection and elegance of classical ballet through strong and powerful body language of male as well as female artists, which is sure to bring audiences an unforgettable evening. 
"Bolero and Suite en Blanc are inspired by music pieces," said Văn.
"As a result, ballet moves and connection in the pieces depend on music. This is the first time I have worked with VNOB dancers. The two world-class ballets will help improve dancers and provide an opportunity for VNOB dancers to be recognised for their international standards of dance."
Choreographer Văn studied at the Conservatoire National Superieur de Musique et de Danse Lyon and danced at the Ballet National de Marseille. He joined the English National Ballet in London in 2003. 
He won a creative award for Shanghai Ballet's La Danse du Stravinsky in 2012 and outstanding performance award from the organising committee and executive committee of the World Exposition 2010. He was among the finalists at the 24th International Competition for Choreographers in Hanover, Germany. — VNS