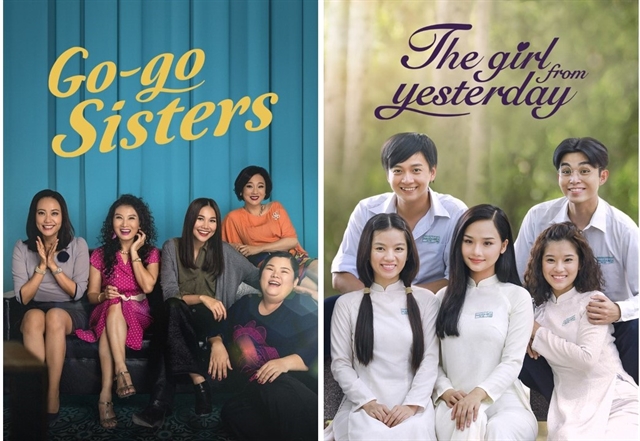 HCM CITY — Netflix announced today that lovers of local films will be able to watch Tháng năm rực rỡ (Go-go Sisters) and Cô gái đến từ hôm qua (The Girl from Yesterday) on its service as part of the first agreement for Vietnamese films between CJ ENM and Netflix.
The addition of these two high-profile titles by Netflix, acquired from the local office of Korean-based CJ ENM, reinforces the streaming company's commitment to grow its local content library and giving the audience truly the best Vietnamese cinema has to offer.
"We're delighted for the opportunity to work with CJ ENM in bringing two of the most critically-acclaimed Vietnamese films in recent times to Netflix. CJ ENM is no stranger to producing high-quality, memorable films that were not only successful at the box office but loved by Vietnamese audiences. So, we are committed to bringing not only best-in-class stories from around the world but locally as well for our members here," Raphael Phang, Content Acquisition Manager, SEA, Netflix, said.
"In the past, CJ ENM has been firmly realising the commitment to encourage Vietnamese creators in developing and producing high-quality local films. Today's announcement signals the start of an exciting journey between CJ ENM and Netflix. That Vietnamese storytelling is being recognised by Netflix speaks volumes about the quality of our stories. With the caliber of these two films especially, we're bringing premium local stories closer to audiences in the country. We look forward to seeing our titles sitting alongside popular films and series from Hollywood and Korea," said Mia Park, Head of Int'l Sales & Distribution at CJ ENM.
Go-go Sisters is a Vietnamese remake of the original rom-com named Sunny from South Korea. When it premiered in 2018, Go-go Sisters was highly acclaimed by movie critics as inspirational. The intertwining of a highly emotive script; unique soundtrack and a colourful cast boasting the likes of Hồng Anh, Mỹ Uyên, Mỹ Duyên, "the box-office Queen" Thanh Hằng; to the fresh faces of Hoàng Yến Chibi, Hoàng Oanh, Jun Vũ, made the film unforgettable. Throughout the entire movie, audiences will be captivated by the girls' coming-of-age stories and their long awaited reunion.
Another fascinating Rom-Com from the Korean label, The Girl from Yesterday is an adaptation of a local book composed by the author of several best-sellers and a true living legend – Nguyễn Nhật Ánh. This marks his second adaptation after Yellow Flowers on Green Grass was previously translated to the silver screen by renowned director Victor Vũ. The Girl from Yesterday taps into Vietnamese audiences' sense of nostalgia with themes of teenage romance, exploration of identity and pop culture of the 90s which highlights the hit song Tình Thôi Xót Xa, beloved by youngsters.
Director of the movie, Phan Gia Nhật Linh, said: "I am so delighted to know that my brainchild will now be available on Netflix in their first agreement for Vietnamese productions with CJ ENM. For those who were not able to catch The Girl from Yesterday at the theatres, it is literally now accessible at the tip of their fingers with an Internet-connected screen."— VNS